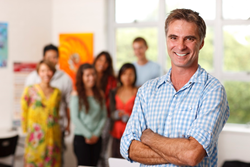 (PRWEB) September 02, 2014
Business Insurance USA, an insurance agency that specializes in providing industry specific commercial insurance, today announced general liability and commercial property insurance coverage for trade schools such as cooking schools and nursing schools. The new coverage is available across twenty different states including California and Texas.
Business Insurance USA's specialized in general liability and commercial property insurance options can now be utilized by professional trade school institutions, including professional cooking and chef schools; nursing or medical schools; computer and technology schools; drama and theater schools; music and dance schools; and business schools. The unique offering available through Business Insurance USA makes it possible for individual trade schools to customize the commercial insurance to meet their specific needs.
"Business Insurance USA understands that trade schools large must balance budget constraints against risk potential, and we are proud to be able to offer tailored options to help meet those needs," stated Gary Fisher, the Executive Director at Business Insurance USA. "Our new general liability and commercial property insurance options for trade schools help mitigate the risks against liability lawsuits and property losses, while helping even small trade schools to stay within the budget."
Business Insurance USA specializes in providing affordable commercial insurance coverage for a wide variety of industries. Coverage options include general liability insurance, errors and omissions protection, business owners policies, workers compensation coverage, commercial auto insurance, and directors and officers coverage.
About Business Insurance USA
Business Insurance USA is a commercial insurance agency based in Burbank California, USA. They specialize in putting together the specific types of insurance that is best for a given industry, tailored to the specific company yet still affordable for the individual company's needs. This allows them to provide coverage for small companies that are just getting started, and add multiple layers of protection as the need arises.
Business Insurance USA offers various lines of insurance coverages across 20 different states. Coverage ranges from bodily injury, property damage, medical expense, legal defense costs, and advertising injury.
To learn more about Business Insurance USA, visit http://www.businessinsuranceusa.com.