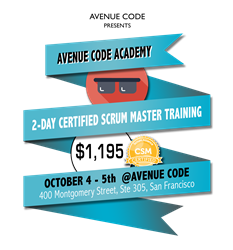 We are very excited to bring our deep knowledge of Agile to a larger audience through Avenue Code's public Agile classes
San Francisco, California (PRWEB) August 27, 2014
For a limited time, San Francisco-based consulting firm Avenue Code is offering Certified Scrum Master Training classes taught by an internationally Certified Scrum Trainer (CST), Robyn Dymond, for their clients and the general public.
The first of these two-day courses will take place October 4th-5th at Avenue Code's office in the Financial District. The course will teach participants the Scrum and Agile principles through exercises and case studies designed to familiarize students with Agile and Scrum and help them develop proficiency in applying these principles in their day-to-day practices.
"Agile software development is cutting-edge expertise in modern software development. Our clients have benefited for years by using Avenue Code to implement large scale eCommerce solutions using this methodology. We are very excited to bring our deep knowledge of Agile to a larger audience through Avenue Code's public Agile classes," the managing partner, Amir Razmara said.
Avenue Code consults with Fortune 500 ecommerce companies in the Bay Area. They help their clients apply fundamental Agile practices to the implementation of their technical solutions, and in doing so, increase their ROI and stay updated with rapidly changing consumer demands. Agile fundamentals—team empowerment, frequent delivery of products, and testing early and often throughout the project lifecycle—can be implemented in the IT side of many industries.
The Scrum Master training program is one of the classes being offered as part of Avenue Code Academy, which represents an additional offering for Avenue Code's customers. Avenue Code also provides expertise in management consulting, project ownership and implementation, and skilled engineering professionals.
This training program is unique in that participants will be able to segue into an ongoing relationship with Avenue Code. Participants will not only build hands-on proficiency, but will also have access to further coaching and consultation from Avenue Code representatives. Moreover, participants will receive a two-year membership in the Scrum Alliance and an online knowledge assessment by Scrum Alliance for certification upon completion of the course.
About Avenue Code:
Avenue Code is a full-service information technology consulting and development organization that specializes in Agile Methodologies. We have been serving dozens of Fortune 100 e-commerce companies, with a breadth of experience in e-commerce, omni-channel technology, and mobile development. Our solutions help our clients build sustainable success.