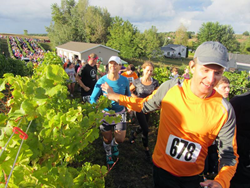 "It's our favorite event of the year," shares Tony Ciccone of Ciccone Vineyard & Winery. "It's exciting to see all those people race through the vineyards in celebration of the new vintage."
Leelanau Peninsula, MI (PRWEB) August 27, 2014
Leelanau Peninsula Wine Trail's annual Harvest Stompede event is a fabulous time to visit the region's wineries. Rolling hills of grapevines cover the countryside, providing a magnificent backdrop to wine tasting fun in a weekend event that takes place September 6 and 7, 2014.
Kicking off the festivities is an optional race through the vineyards at 9:00 a.m. on Saturday at Ciccone Vineyards in Suttons Bay. A unique course between rows of grapevines offers an experience like no other for runners, walkers and spectators. The race is designed for serious to recreational runners and walkers with options for a 5K walk, 5K run, or 7-mile run.
"It's our favorite event of the year," shares Tony Ciccone of Ciccone Vineyard & Winery. "It's exciting to see all those people race through the vineyards in celebration of the new vintage."
Following the race, participants indulge on local wine and food pairings at 22 participating wineries along the trail. Tasting hours for the self-guided tour are 11:00 a.m. to 6:00 p.m. on Saturday and 12:00 to 5:00 p.m. on Sunday.
Featured wine and food pairings are:

Aurora Cellars: Artisan Buttery Spinach & Feta Filled Croissants by Lake Leelanau Pie and Pastry paired with "Luminous," bright white wine
Bel Lago Vineyards & Winery: Cherry Pulled Pork Nachos with Pinot Noir 2012.
Black Star Farms: Butternut Squash and Apple Bisque with Whipped Blue Cheese and Spiced Nuts paired with Arcturos Dry Riesling.
Blustone Vineyards: 2013 Pinot Grigio paired with local Italian sausage from Gabe's Market in Maple City, grilled to perfection and topped with a roasted tomato and onion relish.
Boathouse Vineyards: Pork Barbecue Sliders paired with 2011 Pinot Noir
Chateau de Leelanau: Cook's Famous Great Lakes Salmon and Lake Trout Fish Dip with Homemade BBQ Sauce and Pickled Red Onion Relish served atop of 9 Bean Rows Baguette Crostini paired paired with Muse, which will be on sale for 30% off
Chateau Fontaine: Cincinnati Style Dixie Chili "3 Way" on Spaghetti topped with Cheese featuring Candy Onions from the M-204 Farmers Stand paired with 2012 Big Paw Red
Cherry Republic Winery: Chicken Alfredo Pasta paired with Abbondonza.
Ciccone Vineyard & Winery: Fresh Brushetta paired with Michigan Red 2013
Forty-five North: Cucumbers topped with a Trout Pate with Fromage Blanc and Shaved Radishes by Island Thyme Catering in Lake Leelanau paired with Pinot Gris
Gill's Pier Vineyard & Winery: Beef Brisket and Grilled Asparagus paired with 2012 Cabernet Franc/Merlot
Good Harbor Vineyards: Sweet Potato Bisque paired with Pinot Grigio
Good Neighbor Organic: Cheesy Chicken Dip with Chip Bowls paired with Sangria with Pinot Gris and Pinot Noir
L. Mawby: Angie's Sweet & Spicy Kettle Corn paired with M. Lawrence's newest sparkler, Freestyle and for those that don't like spicy, Bubbly with Popcorn
Laurentide: Picadillo, a spicy, gluten-free potato-based vegetarian dish paired with Gold-winning Emergence Semi Dry White Blend
Leelanau Cellars: Mushroom Bisque paired with Chardonnay
Silver Leaf Winery: Bratwurst paired with Riesling
Willow Vineyards: Peach Cobbler with a Vanilla Ginger Sauce paired with Pinot Gris
"Harvest Stompede is a great time to explore local wines and fresh, local fare," shares Lorri Hathaway, director of the Leelanau Peninsula Wine Trail. "Participants enjoy delicious wine and food while experiencing the bustling excitement of the approaching harvest."
Tickets are $40 per person and include a souvenir wine glass and featured food and wine pairings at each of the 22 participating wineries. Get tickets and lodging packages at http://www.lpwines.com/harvest. To participate in the race, which is separate from the wine trail event, register online at https://www.signmeup.com/site/online-event-registration/98170.