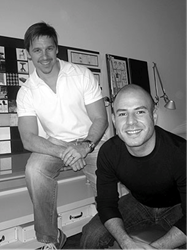 Bal Harbour, FL (PRWEB) August 28, 2014
The Haute Design Network welcomes Billy Blanco Designs as its newest partner. Billy Blanco Designs specializes in tailored residential projects and will serve as the Network's exclusive partner for Bal Harbour, FL.
Billy Blanco Designs' professionalism, years of experience, willingness to meet the needs of clients and ability to flawlessly finish projects sets the precedent for other interior designers in the field.
About Billy Blanco Designs:
Billy Blanco Designs, a boutique Miami-based interior design studio, specializes in tailored residential projects. The principal designers, William Jurberg and David Gonzalez-Blanco, combine their unique talent to form a dynamic designing partnership. Billy Blanco Designs juxtaposes hard lines with soft elements that create bold, stunning, and distinctive designs that range from classical elegance to minimalist opulence.
For more information about Billy Blanco Designs, visit the company's Haute Residence profile.
About Haute Design Network:
Haute Design Network handpicks interior designers that have demonstrated a high level of expertise, professionalism, and achievement in their fields. The elite group of leading interior designers is urged to expose readers to several elements from past and current design trends as they provide a peek into future innovations, while providing both inspiration and exceptional resources to those seeking to employ seasoned luxury interior designers and sophisticated interior design firms.
Billy Blanco Designs is featured on Haute Design Network's comprehensive website as a prominent partner alongside other top interior designers all across the U.S. Network partners have the exclusive chance to interact with viewers by utilizing the Haute Design Network platform via customized blog posts and unique design features. Visit the Haute Design Network at http://www.hauteresidence.com/design to learn more.