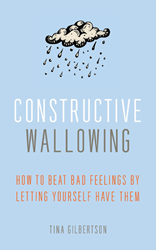 "Tina Gilbertson offers a practical and effective alternative to kicking yourself when you're down."—Natural Awakenings
(PRWEB) August 28, 2014
Tina Gilbertson, author of Constructive Wallowing: How to Beat Bad Feelings By Letting Yourself Have Them (Viva Editions, 2014), was recently featured in the UK paper Express. She discusses "How to deal with dark moods and brooding thoughts."
Looking on the bright side doesn't always work, and as Gilbertson writes, can actually be harmful to emotional well-being. She instead advocate for constructive wallowing. "It is a counter-intuitive concept in an age of thinking positively and wishing-on- a-star escapism but offers a real opportunity for growth and emotional depth," writes Express.
As Gilbertson shares with Express, "constructive wallowing, which allows us to open the doors and windows and experience all our emotions more fully, is therefore necessary for a joyful life."
Tina Gilbertson holds a master's degree in Counseling Psychology and is a licensed mental health counselor. In addition to working with adults one-on-one, she teaches assertiveness and self-esteem workshops and classes on goal-setting, decision-making, overcoming anxiety and finding the right career. She has written feature articles on emotional intelligence and health for Portland's Natural Awakenings magazine, and contributes wisdom as a self-esteem expert for online therapist directory GoodTherapy.org. She lives in Portland, Oregon, and can be found online at TinaGilbertson.com.
Planning to be in the Portland, OR area? See Tina Gilbertson in person at these events:
9/9: Multnomah County Library, Holgate Meeting Room - 6:30pm
9/16: Multnomah County Library, Hillsdale Meeting Room - 6:30pm
9/21: Multnomah County Library Central Branch, U.S. Bank Room - 2pm
9/28: Multnomah County Library, Fairview-Columbia Library - 3:30pm
10/4: Multnomah County Library, Belmont Meeting Room - 4pm
10/5: Multnomah County Library, Sellwood-Moreland Meeting Room - 1pm