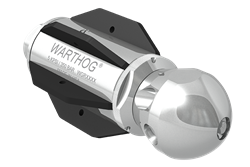 The proven choice for municipal, industrial and commercial drain cleaning applications.
Durango, CO (PRWEB) August 29, 2014
Warthog sewer tools are the proven choice for municipal, industrial and commercial drain cleaning applications. These high performance rotary pipe cleaning tools are used predominately on combination trucks with 1" hose to meet the challenges of maintaining large pipe systems, such as pulling through long lines, cutting roots, and descaling.
The WGR Magnum is the first tool in a new line of Warthog sewer nozzles specifically designed for extended life, increased work time between maintenance intervals and optimal handling of dirty or recycled water. Magnum series tools feature innovative speed control and seal technology for improved tool life. Built on two decades of experience, these tools operate at least four times longer before requiring maintenance while upholding the high caliber performance that Warthog sewer tools are known for.
The WRG Magnum effectively retains jet quality under poor water conditions and their streamlined design allows for better forward and reverse movement through pipe. Hardened steel centralizer fins can be replaced individually as wear occurs, further protecting the tool and enabling longer operation in the field.
John Pujol is owner and operator of Advanced Infrastructure Technologies, LLC., a major equipment provider in Torrence, CA. "The City of Los Angeles manages one of the largest wastewater collections systems in the country, with over 6,600 miles of pipe," says Pujol. "They have a fleet of 50 combination machines to help them with this huge task." When the City of LA began the formidable process of upgrading their fleet of tools, Pujol recommended the top of line Warthog WGR Magnum. "Their management is progressive, always alert to new technologies that will either perform better or use the available funds money more wisely, or both," continues Pujol. "The City of LA benchmarked the new WGR Magnum against competitive alternatives and confirmed that it was the best cleaning tool available. They were also impressed by the longer duty cycle and considered the fact they could service the units themselves, on site, as critical factors in evaluating their options. They validated these results by issuing their opening purchase order for 38 units in June of this year."
The Warthog WGR Magnum takes the unmatched power of the Warthog line of sewer cleaning tools to the next level. For more information, visit http://www.sewernozzles.com/wgr or call 1-970-259-2869 or TOLL FREE 1-866-795-1586.