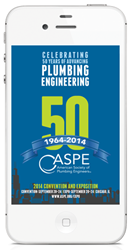 The personalized planner is one of the many features of the a2z mobile solution that boosts the expo experience for attendees.
Columbia, MD (PRWEB) September 04, 2014
a2z, Inc is pleased to announce that the American Society of Plumbing Engineers (ASPE) will offer the ChirpE mobile app solution, to attendees of ASPE's Convention and Exposition, the only industry event dedicated to showcasing innovations in plumbing system design. This event will take place September 20-24, 2014 in Chicago, IL.
The a2z-powered ChirpE mobile event app offers easy access to the complete convention schedule, expo announcements, and social media posts – all in real-time and synced from the event website – providing for an enhanced experience.
The personalized planner is one of the many features of the a2z mobile solution that boosts the expo experience for attendees. An app user can add their favorite exhibitors to their personalized planner by using the interactive floor plan to tag the exhibitors that they want to meet at the Expo.
In addition, attendees can access information about featured products and view show specials by featured exhibitors – all of which are accessible in one place. The ASPE 2014 mobile app is available for iPhone/iPad and Android phones as well as all internet-enabled smart phones.
The 2014 ASPE Convention & Exposition attracts plumbing engineers, designers, specifiers, and contractors to learn about the latest plumbing products, services, and design techniques. This event will not only feature a celebration of their anniversary milestone of 50 years, but also present the largest display of the newest plumbing products and services, along with networking opportunities with thousands of plumbing industry professionals from across North America. In addition, convention registrants can take part in technical education sessions and earn continuing education hours.
For more information about the tradeshow, please visit events.ntpshow.com/aspe2014
About a2z
a2z, Inc. provides powerful web-based event management tools that grow your show by increasing and accelerating booth sales, helping boost revenue, and enhancing engagement and value for everyone. Our clients benefit from increased connectivity with their audience via an improved website for their attendees and exhibitors and both web-based and native mobile app solutions. To fulfill our goal of developing quality solutions that help save money and meet your needs, a2z offers three platforms as one integrated solution: Expo & Conference Management, Networking & Lead Management, and ChirpE Mobile- which includes our web-based and native mobile apps for smart phone and tablet devices.
About ASPE
The American Society of Plumbing Engineers (ASPE) is the international organization for professionals skilled in the design, specification and inspection of plumbing systems. ASPE is dedicated to the advancement of the science of plumbing engineering, to the professional growth and advancement of its members and the health, welfare and safety of the public. ASPE was founded in 1964 and currently has 6,100 members worldwide. They represent an extensive network of experienced engineers, designers, contractors, code officials, manufacturers, and manufacturer representatives interested in advancing their careers, their profession, and the industry. ASPE is at the forefront of technology. In addition, ASPE represents members and promotes the profession among all segments of the construction industry.