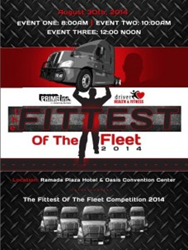 "While the competition will feature standard fitness test events, we also want to promote healthy living while on the road. Health and fitness should be a year-round lifestyle within our industry." -Siphiwe Baleka, Prime Driver Fitness Coach
Springfield, MO (PRWEB) August 28, 2014
Prime Inc., North America's most successful refrigerated, flatbed and tanker trucking company, recently announced they would be hosting the 2nd Annual "Fittest of the Fleet Competition" at their annual company picnic this weekend. Last year's event gained national attention from Men's Health Magazine, who featured the first and second place finishers in the magazine in the article "7 Rules of On-The-Road Fitness" by Joe Kita (April 23, 2014).
Professional truck drivers from Prime, Inc. will compete for the title of "Fittest of the Fleet" through a series of timed events testing their strength, speed, endurance, agility and athleticism. The competition is limited to the first 20 men and 10 women who apply and all events are separated with male and female divisions.
"After the success of last year's event, we anticipate that Saturday will bring friendly competition from all of our drivers," said Siphiwe Baleka, Prime Driver Fitness Coach. "While the competition will feature standard fitness test events, we also want to promote healthy living while on the road. Health and fitness should be a year-round lifestyle within our industry."
Events at the competition will include push-ups, burpees, jumping jacks and fitness activities involving the truck. This year's competition will feature two new pieces of fitness equipment that Prime, Inc. will showcase as creative and novel ways to exercise while on the road.
Pete Thomas, Season Two $100,000 at-home winner of NBC's "The Biggest Loser," will be this year's guest announcer. Participants will also have the opportunity to win a $500 cash prize from Peterbilt of Springfield, and Swiftwick will be providing Medical Class II compression socks at the event.
Baleka designed the inaugural event last year with two goals in mind: first, to highlight drivers who have made fitness and health a major part of their trucking lifestyle; and second, to bring families together for a day of fun. In an effort to spread the health and fitness culture within the industry, he is now challenging other carriers to host their own event using the same format. His hope is to bring together the champions of each fleet into a national competition.
"The truck driving industry is stigmatized for being a profession with the highest percentage of overweight workers," explained Baleka. "We are looking to reverse that trend, not only within our company, but within other fleets. We have invited other carriers to participate in their own events this year, and each year we will be crowning the Fittest Truck Driver in America."
The annual Prime picnic will be hosted at the Ramada Plaza Hotel & Oasis Convention Center in Springfield, Missouri on Saturday, August 30, 2014 from 8:00 a.m. to 5:00 p.m. CDT. The event is closed to Prime associates and their immediate families.
For trucking companies interested in hosting their own event for a chance to compete in the Fittest Truck Driver in America, contact Siphiwe Baleka at Prime, Inc. by email at sbaleka(at)primeinc(dot)com for more information.
About Prime Inc.
Founded in 1970 by Robert Low, Prime Inc. is North America's most successful refrigerated, flatbed, tanker and logistics trucking company. Headquartered in Springfield, MO, Prime's personnel, equipment and technology remains on the cutting edge of the transportation industry, and the company's growth remains steady and well managed.