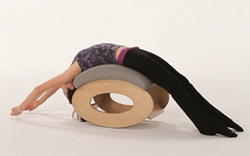 Sit, Stretch, Strengthen
Burbank, California (PRWEB) September 03, 2014
Londi Palmisano, a California certified massage therapist, invented the Body Archer to offer an innovative solution for people looking for a relaxing, passive way to loosen and stretch the muscles of the back and upper body. In a moment of sheer genius, she came up with a really innovative and functional design for promoting increased flexibility of the entire upper body, using gravity, your own body weight, and a gentle rocking motion.
Then, Body Archer CEO, Robert Wald, a retired movie industry professional and serial entrepreneur, remembered his friend's invention and founded Body Archer LLC in order to market the product online as a "back stretching chair". Immediately, it started selling to individual customers all over the country who appreciated the benefits it offered. These happy users showed their Body Archers to their chiropractors, some of whom are now including it in their recommendations to their other clients.
Robert is now getting inquiries from other groups of professionals who deal with clients having similar issues. He explains, "We introduced the Body Archer to the public at the Los Angeles Marathon Fitness Expo and several physical therapists saw it there. They told us that our product could be a valuable tool for aiding in the rehabilitation of certain back and upper body injuries. We later got some unexpected and surprising feedback from people who work with autistic and other special needs children, such as those who suffer with ADHD, who suggested that the rocking motion of our chair could be an excellent therapeutic aid for these kids. So, now we are making a special offer to these professionals so that they can do an analysis of the Body Archer and help us understand how it may be able to benefit these kids who are facing such serious challenges."
The Body Archer team welcomes inquiries from all health care professionals who are interested in analyzing the benefits of the Body Archer for their specific clients.
The Body Archer was invented by a certified massage therapist and has been developed for the retail market by Body Archer LLC to help millions of Americans prevent and relieve back pain. The Body Archer is manufactured in the company's home base of Los Angeles, California using high quality materials to create their thick, comfortable foam arch, reinforced sturdy wood undercarriage, anti-slip rubber rocking surfaces, and antibacterial fabric. The company's mission is to educate consumers on the short and long term benefits of maintaining a flexible body and spine, and sitting in a healthier way. http://www.bodyarcher.com