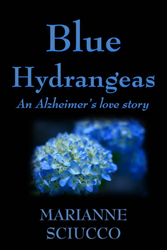 I met this couple who just captivated me. She had Alzheimer's and he was very frail. They were devoted to one another.
Middletown, NY (PRWEB) August 28, 2014
What inspired nurse author Marianne Sciucco to write a novel about Alzheimer's? In a new YouTube video Sciucco reveals the inspiration for "Blue Hydrangeas," an Alzheimer's love story, and also discusses why she chose to independently publish her book, reader reaction, and how her work as a nurse affects her writing.
"Blue Hydrangeas" is the poignant, beautiful story of a pair of retired Cape Cod innkeepers struggling with the wife's Alzheimer's. "I didn't plan to write a novel about Alzheimer's, it just happened," says Sciucco, who describes the couple she met in her work as a nurse case manager that laid the foundation for her debut novel.
"I met this couple who just captivated me. She had Alzheimer's and he was very frail," she says. "They were devoted to one another." Her encounter with this couple haunted her, and slowly the story of Jack and Sara, the characters in her novel, developed.
First published for Kindle in April of last year, then in paperback, and recently in audiobook, "Blue Hydrangeas" has hit number one in Kindle's medical fiction four times, is IndieReader Approved, was a BookWorks Book of the Week, and received IndieReCon's first ever "Best Indie Novel Award."
The video, produced by SUNY New Paltz student Anthony Lorino, was filmed in a park-like setting in New York's Hudson Valley on a beautiful July day, with the singing of birds providing a soundtrack.
In the video, Sciucco explains reader reaction to the book: "People started to respond right away, and before I knew it I developed a fan base, accumulating reviews on Amazon that were beyond anything I had expected." To date readers have posted 84 reviews, 60 of them 5-star, with an average rating of 4.7-stars.
"The responses are coming from people who have lived with this disease, either as caregivers or as loved ones of somebody who has been through it. I wasn't sure if that audience would even be interested in this book because after living through it maybe they didn't want to relive memories or go back and visit some times that were painful. But the opposite has happened: the people who respond are grateful to read the story. I believe it gives them a sense of validation, that what they went through was real."
In the video interview Sciucco explains why she chose to self-publish and what that process was like. She also discusses how her career as a nurse affects her writing. "As a nurse, I am the keeper of many stories," she says, "which really are about the human experience, and because I write and have those skills, and I desire to do so, I have the obligation to tell these stories."
Readers can find "Blue Hydrangeas" on Amazon, Audible, iTunes, Nook, Kobo, iBooks, Vook, the Create Space eStore, and other online retailers.
About the Author
Marianne Sciucco is not a nurse who writes but a writer who happens to be a nurse. A lover of words and books, she dreamed of becoming an author when she grew up but became a nurse to avoid poverty. She later brought her two passions together and writes family dramas with real medical issues, clean fiction without overt sexuality, violence, or objectionable language. Follow Marianne's Adventures in Publishing and keep up with her on Twitter, Facebook, and Goodreads.