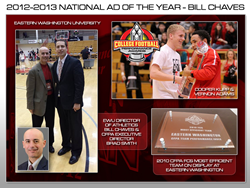 'Thirteen out of fourteen programs have a cume GPA of 3.0 or greater, and the one that doesn't has a 2.9.'
Charleston, SC (PRWEB) August 29, 2014
Eastern Washington University (EWU) Director of Athletics Bill Chaves recently shared his leadership philosophies in an interview with College Football Performance Awards (CFPA) Executive Director Brad Smith. Chaves, the 2012-2013 National Association of Collegiate Directors of Athletics (NACDA) Athletic Director of the Year, discussed a wide range of subjects, including his greatest professional influences, strongest personal attributes, and overall keys to success.
Despite numerous on-field achievements at Eastern Washington, Chaves expressed his greatest pride in Eastern Washington's academic performance record.
"Thirteen out of fourteen (programs at Eastern Washington) have a cume GPA of 3.0 or greater, and the one that doesn't has a 2.9," said Chaves. "We talk about having our student-athletes come to school, earn their degree, have a great experience while they're here; that's what's most important because we can develop leaders for tomorrow."
The full interview with Eastern Washington Director of Athletics Bill Chaves is available on the CFPA FCS Awards YouTube Channel.
Seven Eastern Washington Eagles earned spots on the 2014 CFPA Watch List. Five Eagles have earned CFPA FCS annual honors, while the 2010 FCS National Championship team earned the CFPA team performance award for overall efficiency.
In the 2014 FCS Kickoff game, Eastern Washington defeated Sam Houston State 56-35. 2013 CFPA FCS National Performer of the Year Vernon Adams contributed 363 yards of offense and four total touchdowns, while 2013 CFPA FCS Wide Receiver Award winner Cooper Kupp finished the game with seven receptions for 62 yards and one touchdown.
Eastern Washington faces Montana Western this Saturday at Roos Field.
About College Football Performance Awards:
The goal of College Football Performance Awards is to provide the most scientifically rigorous conferments in college football. Recipients are selected exclusively based upon objective scientific rankings of the extent to which individual players increase the overall effectiveness of their teams.
As prominent scholars from a wide variety of disciplines note, CFPA eliminates the politics and biases that vitiate balloting-based awards. Furthermore, CFPA has received praise from both Republican and Democratic White House officials for promoting objectivity and fairness in college football.
CFPA is now in its seventh season of player and team performance recognition. Twenty-eight CFPA winners have been first-round NFL Draft selections.