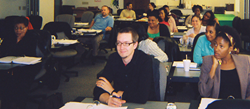 Chicago (PRWEB) August 29, 2014
The Chicago Rehab Network's (CRN) much-anticipated training series is now open for registration. Now in its 18th year, this award-winning training series covers the fundamentals of housing development and management in a community development context.
During 128 hours of instruction led by some of the most experienced practitioners in the field, students will develop or enhance their technical understanding of how to put together and nurture place-based housing strategies. Registration is open for individual classes or the whole series for a savings of $100 per student.
Topics and dates for the 2014-2015 Empowerment Series are:

Community Building – September 17-18, 2014
Finance Skills for Real Estate – October 22-23, 2014
Proforma Development & Analysis – November 10-11, 2014
Sources of Development Financing – December 9-10, 2014
Single Family Housing Development – January 14-15, 2015
Multifamily Housing Development – February 10-11, 2015
Project Construction & Management – March 11-12, 2015
Property & Asset Management – April 7-8, 2015
Workshop participants will learn technical development skills, discuss strategies for community empowerment and reinvestment, and forge lasting bonds with a cohort of emerging community development leaders. Workshops mostly will be held from 8:30AM – 4:30PM at CRN's offices at 140 S. Dearborn, Suite 1420, while others will take place in the field. Lunch will be served. Certificates will be presented to those who attend all eight workshops. Applicants can find more detailed information about each workshop as well as register online at http://www.chicagorehab.org or call 312.663.3936.
The Empowerment Series is a driving force behind CRN Legacy 35, the organization's first-ever campaign to raise $1 million to continue its renowned advocacy, programming and training initiatives. One pillar of the campaign is to provide funds to support CRN's new training facility, the Community Housing and Development Institute (CHDI). The 2014-2015 Empowerment Series will be the first convened in the new CHDI, which is housed in CRN's new headquarters located in the historic Marquette Building.
About the Chicago Rehab Network – For over 35 years, the Rehab Network has worked to train, coordinate and empower community-based organizations engaged in developing affordable housing across Chicago and the region. CRN is well known for leading a coalition of over 270 Chicago community development organizations during its Affordable Housing and Community Jobs Campaign, which resulted in the establishment of the first City of Chicago Five-Year Affordable Housing Plan in 1993.
CRN's robust advocacy efforts also have resulted in numerous affordable housing policies and resources, including the Affordable Requirements Ordinance, the Tax Reactivation Program, State of Illinois Housing Trust Fund, various property tax reforms, and the Illinois Affordable Housing Tax Credit. For this and more, the Rehab Network received the MacArthur Foundation's Award for Creative and Effective Institutions, also known as the "genius award" for organizations.
In addition to advocacy and training, CRN provides industry-wide thought leadership through regular policy updates, best practice case studies, and demographic and economic analysis related to housing needs and markets. The Chicago Rehab Network also consults on research issues, community engagement, and organizational and real estate development. More information is available at http://www.chicagorehab.org.