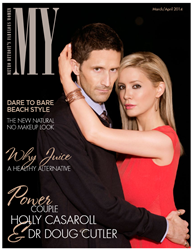 We are celebrating our new location and ten years in business!
Detroit, MI (PRWEB) September 25, 2014
Leading Detroit health and wellness center, Cutler Integrative Medicine and award-winning medical spa, FACE Skincare Medical Wellness is proud to announce a new location and expansion.
"We are celebrating our new location and ten years in business," says FACE founder Holly CaSaroll. "Whether your challenge is wrinkles, lack of elasticity, acne pigmentation, melasma, scars, or other body imperfections, FACE has a comprehensive array of therapies, experts and products to find the right skin rejuvenation and wellness solution for all of your needs."
With 24 laser and facial technologies, liquid facelifts, body makeovers, an exclusive detoxification clinic, the new location will be a one stop shop for customers' beauty and wellness needs. Boasting 3,500 square ft. the new space will open its doors in October at 31350 Telegraph Road, Suite 102, Bingham Farms, MI.
"More and more people are demanding Naturopathic medicine, as their current medical care may be suppressing symptoms and not actually healing the root cause," says Dr. Cutler. "We are pleased to meet the public's needs with our new state of the art facility."
As the only doctor in Michigan to specialize in "extensive" detoxification and depuration therapies, Dr. Cutler also specializes in environmental medicine with an expertise in genetic polymorphisms, chemical & toxic metal syndromes, gastrointestinal health, allergies and food sensitivities, endocrine imbalances, weight issues, autoimmune conditions, mental conditions, pre-conception care, stress management, and disease prevention and health education.
About FACE Skincare~Medical~Wellness:
FACE is a multi-award winning beauty and wellness clinic that has been providing successful innovative solutions to skin conditions for over a decade. Founded by skin expert, Holly CaSaroll, FACE offers 24 laser and facial machines, liquid facelifts and body makeovers. Over 17 years ago, CaSaroll rebuilt her own skin, disfigured from cystic acne, and has since created one of the most extensive clinics around. CaSaroll is a go-to skin guru and has been featured on TV and a bevy of publications. She currently pens a monthly column in "My Magazine," titled "Ask the Expert." Their Skin Management Experts™ specialize in non-invasive therapies using their unique 3D Face Therapy™ approach to healing skin that accelerates results from a cellular level. Her wellness division, headed by Dr. Doug Cutler, a Licensed Naturopathic Physician, finds the root cause of imbalances in the body to create overall well-being from the inside out. To see what FACE can do for you, please visit http://www.facebeautyscience.com/.
About Dr. Cutler and Cutler Integrative Medicine:
Dr. Cutler's philosophy and expertise, as a Licensed Naturopathic Physician, is in discovering the root cause of illness while not only treating the symptoms—which are often the combination of factors; such as nutritional or biochemical dysfunctions, lifestyle, genetics, environmental toxins, as well as the mind, emotions, and beliefs. Doug Cutler, ND received his Doctorate of Naturopathic Medicine from Southwest College of Naturopathic Medicine and his Bachelor of Science degree from Brigham Young University. He has also extensive training in environmental medicine under the pioneering and leading experts in the field of medicine. Dr. Cutler is a member of The American Association of Naturopathic Physicians, The Michigan Association of Naturopathic Physicians, The Naturopathic Association of Environmental Medicine, The American College for Advancement in Medicine, and The Pediatric Association of Naturopathic Physicians. To see what CIM can do for you, visit http://www.cutlerintegrativemedicine.com.