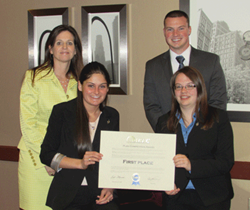 Learning the different elements of the financial planning business helped prove what I wanted to do with my career and future... Bryant University winner Kyle Creedon
Middletown, OH (PRWEB) August 28, 2014
Following a four step process, there are extensive learning opportunities for the students. These include handing in a plan on the most elemental level of following submission guidelines to presentations via webinars and live presentations to a panel of experienced professionals for judging. "Our goal of the plan competition is an educational one," says IARFC Chairman and CEO Ed Morrow. "Students need to understand how to present to a real client, in the real world with a real case scenario and data. Completing this process simulates a valuable real world experience."
Universities that participated last year included University of North Texas (Denton, TX), Bowling Green State University (Bowling Green, OH), Shepherd University (Shepherdstown, WV), University of Incarnate Word (San Antonio, TX), Bryant University (Smithfield, RI) and University of Georgia (Athens, GA). Professors have included writing a financial plan and submitting it to the competition as part of their curriculum.
Winners for the 2014, determined in Las Vegas in May, were First Place: Bryant University from Smithfield, RI - team members Kyle Creedon, Lauren Fayne and Jamie Pepin, faculty advisor Mara Derderian. Second place: Shepherd University, Shepherdstown WV - team members Bonnie Bailey, Akhtar Khan and Avery Mendzela, faculty advisor Nicolas Pologeorgis. Third place: Bowling Green University, Bowling Green OH - team members Dana Kaufman, Elizabeth Kevorkian and Becca Smoody, faculty advisor Matthew Garrow.
The National Plan Competition relies on Corporate Sponsorship and individual sponsorship from its members. These members are very interested in helping students in financial programs have a real world experience – the Financial Plan being a core product for a client. The competition also provides opportunities for students to network and gain insight from financial services professionals.
In 2015, the semi-finalists will be presenting their plans via webinar to the IARFC Board of Directors on March 12. Final judging will be held in Charlotte, NC on April 29th & 30th in front experienced advisors. Deadline for the Plan submission is December 31, 2014.
Registration is now open and the IARFC is accepting entries from individuals or 2 person teams. To find out more information or to sign up for the 2015 Competition, go to the IARFC website or contact Amy Primeau at 800.532.9060 ext 307.