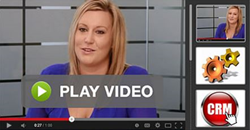 We hope the gallery answers any questions Realtors may have about IXACT Contact and helps them choose the CRM that's right for them.
Toronto, Canada (PRWEB) September 02, 2014
IXACT Contact's interactive video gallery of customer testimonials, located on the homepage of its website, features customer comments about software functionality, technical support, mobile connectivity, case studies and more. It's the first customer-focused video gallery of its kind in the real estate CRM industry in North America. The gallery features agents raving about the system's powerful business-building benefits.
"As a result of the unparalleled experience IXACT Contact delivers, we have a lot of enthusiastic customers," said Rich Gaasenbeek, Vice President, Sales and Marketing, IXACT Contact. "We decided to capture that enthusiasm on video because so many agents are trying to figure out which CRM they should choose to help them get better organized and more effectively stay in touch with their sphere."
When a website visitor mouses over the icons that appear in a scrollable index to the right of the video window, topics will appear over the icons such as "Newsletter Success Story," "Why Switch CRMs?" or "IXACT Contact vs. Top Producer." When a visitor sees a topic they would like to explore, they simply click on the icon and a video response, usually from an IXACT Contact customer, will begin to stream in the main window to the left of the screen.
The company plans to expand the gallery with more customer video comments on a wider range of topics related to real estate contact management software. "We know agents trust the opinions of others like them," commented Gaasenbeek. "We hope the gallery answers any questions Realtors may have about IXACT Contact and helps them choose the CRM that's right for them."
According to a recently-released survey of advertising trends among marketers, a growing number use online video to drive brand awareness, boost lead generation, build online engagement, educate customers, and drive website views. As a large and increasing number of successful agents today showcase their client testimonials through video, IXACT Contact has been eager to provide Realtors with testimonials of the software using the same format that agents already know and trust.
About IXACT Contact Solutions Inc.
IXACT Contact® is an easy-to-use web-based real estate CRM that helps REALTORS® stay organized and build lasting relationships with past clients, hot prospects and important referral sources. IXACT Contact makes it easy to stay in touch with clients in a way that's personalized, relevant and timely. With IXACT Contact, real estate agents can convert more leads into listings and attract more referrals and repeat business. Real estate marketing is also a snap with IXACT Contact's personalized mass email, drip marketing, real estate newsletter, and Email Campaign Reporting features. The Active Business side of the system helps Realtors keep control of transactions by managing all the to-do's associated with listings and buyers. Sign up for a free five-week trial today at http://www.ixactcontact.com.