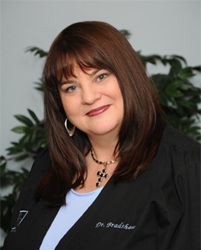 Spring, TX (PRWEB) August 28, 2014
People who need to visit a Spring, TX periodontist for periodontal disease treatment before receiving dental implants due to the presence of this oral infection can benefit from Dr. Gayle Bradshaw's use of the LANAP® protocol, a laser based method that restores gum health with minimal discomfort and in less time than any method ever before. Dr. Bradshaw and her team at Bradshaw Periodontics have adopted the LANAP® system because of its ability to effectively treat gum disease while simultaneously reducing the impact to patients and the time required for full treatment.
As a leading Spring, TX periodontist, Dr. Bradshaw is one of the nation's first providers of this periodontal disease treatment, illustrating her commitment to providing patients the very best in dental advances. At the heart of the system is the PerioLase® MVP-7™ laser which is used to identify infected gum cells and vaporize them. Traditional surgery for gum disease involved the dentist using a scalpel to cut out areas that were infected and resulted in the loss of healthy gum tissue as well. Because the laser is highly specific, it can eliminate the loss of healthy gum tissue and therefore reduces the incidence of gum recession resulting from treatment. As an added benefit, the laser also helps to generate bone regrowth to guard against future tooth loss. A healthy oral environment is crucial for the successful placement of dental implants.
Tooth loss can occur due to trauma, severe decay, and periodontal disease. People with missing teeth can select from various options to replace the teeth including bridges or dentures. However, implants offer superior replacement benefits. These include the most natural appearance and the ability to eat and speak normally. Additionally, implants help to guard against future jaw bone loss because the titanium posts stimulate the bone in the same way as natural tooth roots. Without this stimulation, the bone can erode over time and cause severe cosmetic and functional issues.
With LANAP® periodontal disease treatment, patients not only experience a faster, minimally invasive process for improving gum health, but also increase their likelihood of being a candidate to receive dental implants. Dr. Gayle Bradshaw of Bradshaw Periodontics is proud to be the Spring, TX periodontist that area residents can look to for this dynamic treatment.
About the Practice
Bradshaw Periodontics is a periodontal practice offering patients personalized dental care for The Woodlands, Texas since 1998. Dr. Gayle Bradshaw graduated Magna Cum Laude in 1994 from The University of Texas Health Science Center San Antonio Dental School. Dr. Bradshaw and her family moved to Houston to complete her Master's Degree in periodontal surgery at The University of Texas Dental Branch where she completed her studies in 1998. In 2000, she earned her Board Certification from the American Board of Periodontology. Dr. Bradshaw is part of one percent of dental professionals providing the LANAP® FDA cleared laser procedure for gum disease and periodontal treatment. To learn more about Bradshaw Periodontics and their dental services, visit their website at http://www.bradshawperiodontics.com and call (281) 377-8409.