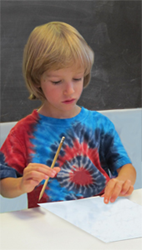 'STAR Center provides the right mix of services to help with academic success by addressing the whole child.'
Denver, Colorado (PRWEB) August 29, 2014
For most kids, sensory processing occurs without conscious thought and these skills are automatic. But for some kids, sensory information goes into the brain but does not get organized into appropriate responses. For some of these children, school is a place they dislike. Sensory Processing Disorder (SPD) is an increasingly common diagnosis, with a wide range of symptoms that can be difficult for parents to deal with and pediatricians to diagnose. Kids often are misdiagnosed and inappropriately medicated for ADHD. STAR Center is pleased to announce the expansion of its services with new educational assessments and consultation services.
Sensory problems can mean special challenges that make learning difficult for children in the classroom. Sensory kids may have trouble:

paying attention
following directions
staying on task
with motor skills and handwriting
sitting still
making friends
with speech, language and communication
with loud sounds
being touched
Sensory processing refers to the way the nervous system receives messages from the senses and turns them into responses. Those with Sensory SPD perceive and/or respond to sensory information differently and the sensory information gets "mixed up" in their brain, and therefore the responses are inappropriate in the context in which they find themselves. Individuals with SPD may over- or under-respond to one or more sensations (e.g., a loud sound, or light touch), crave sensations or may have problems with motor skills and coordination.
Getting help from professionals early assists parents and teachers in supporting a child's success in managing sensory challenges. At STAR (Sensory Therapies And Research) Center, SPD is treated in a multidiscliplanary approach, with parent coaching an integral part of managing sensory issues going forward. Treatment may include one or all of the following: a health and physical evaluation by a pediatrician, a speech/language evaluation, a sensory-motor and relationship/engagement evaluation by occupational therapist, social-emotional evaluation by a psychologist, family priorities and needs evaluation by a case coordinator, and possibly a feeding evaluation.
"STAR Center provides the right mix of services to help with academic success by addressing the whole child," said Dr. Lucy Jane Miller, founder of the STAR Center and Sensory Processing Disorder Foundation. "Taking the time to understand each a child's unique issues helps parents understand and advocate what they need to help their child in school."
Early diagnosis increases the chances of successful intervention and treatment and can prevent secondary problems from developing. Part of the equation is equipping children and their parents with the tools to manage sensory issues at home and at school, and the other part is assessing whether a child is in the right school or a teacher is able to provide what a sensory child needs in the classroom. Testing alone is not sufficient to ascertain the kind of environment a child needs to be academically successful.
STAR Center is offering a Back to School Fall Special of a free intake and $200 off an evaluation. Please visit the website for more information.
About STAR Center
STAR Center, a Colorado 501(c)(3), is the premier treatment center for children and families living with Sensory Processing Disorder, feeding disorders, and other sensory conditions associated with ADHD, autism, and other developmental disorders. STAR Center offers intensive ³burst² treatment that research shows is effective in treating sensory issues. Parents are involved throughout the process so families can learn to create sensory lifestyles and continue to see progress after the formal treatment program ends. Dr. Lucy Jane Miller, founder of STAR Center and Sensory Processing Disorder Foundation, is widely recognized as the leader in Sensory Processing Disorder (SPD) research worldwide. For more information about the Greenwood Village, Colorado clinic, visit http://www.SPDStar.org.