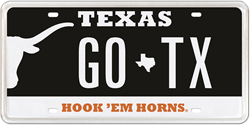 "We are pleased with these new designs, as they carry a unique attribute of our University and allow fans and supporters to show their pride in the Longhorns," said Steve Patterson, University of Texas men's Athletic Director. a quotable
AUSTIN, TEXAS (PRWEB) September 02, 2014
The new University of Texas official license plates will be available for purchase Tuesday. The two new plates were redesigned to improve legibility, as well as to harness a number of the key characteristics of the University, from the UT Tower, the Texas Longhorns and the ever-popular UT burnt orange.
"We are pleased with these new designs, as they carry a unique attribute of our University and allow fans and supporters to show their pride in the Longhorns," said Steve Patterson, University of Texas men's Athletic Director.
These new designs were released for sale September 2nd and are now available to purchase at MyPlates.com.
My Plates designs and markets new specialty license plates as a vendor for the Texas Department of Motor Vehicles. Texans have bought more than 200,000 My Plates since November 2009, putting more than $25M in the state general revenue fund.
Visit My Plates at:. http://www.myplates.com.