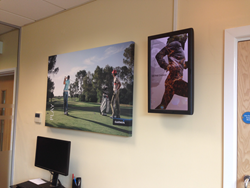 We hope that, by introducing this modern day noticeboard to our workplace, we'll be able to effectively engage with our team and continue to create a sense of community amongst employees
(PRWEB UK) 1 September 2014
Amscreen Digital Solutions has today announced a development in its partnership with Garmin, the leaders in navigation systems, that will see a series of screens installed at the company's Southampton-based Head Office. The deployment will see Amscreen's unique technology used to efficiently and effectively communicate key internal messaging to employees.
The video case study can be viewed here.
The unique 'plug and play' technology featured in Amscreen's digital screens will provide Garmin with a scalable and flexible communications tool. With a series of own-branded PowerPoint templates developed specifically for the screens, Garmin will be able to seamlessly and instantly update the network with relevant messaging.
The network of screens will be used to communicate a wide range of internal messaging, from business updates, internal events, employee awards to charity initiatives, as well as job opportunities and their internal referral scheme.
Gary Morgan, Director of Human Resources EMEA at Garmin commented, "Employee communications is very important for us as a business. Having witnessed first-hand the benefits of the Amscreen network over the past few years, we are very excited about bringing this in-house and being able to talk to our staff efficiently. We hope that, by introducing this modern day noticeboard to our workplace, we'll be able to effectively engage with our team and continue to create a sense of community amongst employees."
Paul Atherton, Commercial Director, Amscreen added, "We're really pleased to be taking our partnership with Garmin to the next level. By installing an internal network, all of Garmin's valued employees will now be able to benefit from our real-time communication technology and bring the old paper formats to real life in digital HD. We have created some easy to use PowerPoint generated slides that offer really easy content creation too."
To find out more about Amscreen's Digital Solutions division and digital internal communications, please visit http://www.amscreen.eu/digital-signage/applications/internal-communications/