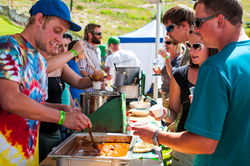 Fall is a glorious time to visit the Colorado Rockies with amazing fall foliage displays, outdoor activities galore and a jam-packed calendar of events in the Gunnison-Crested Butte Valley.
Gunnison-Crested Butte, Colorado (PRWEB) August 31, 2014
Fall is a glorious time to visit the Colorado Rockies with amazing fall foliage displays, outdoor activities galore and a jam-packed calendar of events in the Gunnison-Crested Butte Valley. Sneak in a laid-back week in the mountains, gather the family for a campout and hike, or channel your weekend warrior spirit for some of the last running and biking events of the season that happen during the Gold Rush. In the Colorado Rockies, fall foliage starts turning in early September and continues through early or mid-October depending on weather conditions. Below is only a sampling of the many happenings in Gunnison-Crested Butte during autumn.
Crested Butte Ultra Enduro, Sept. 3 - 7
The inaugural Crested Butte Ultra Enduro on Sept. 3 – 7 is not for the faint of heart and requires expert-level bike handling skills. Four of the five days bring racers deep in the backcountry with starts beginning at around 9,000 feet and climbing and topping out above 12,500 feet. The final day of racing takes place at Evolution Bike Park, where awards and festivities will culminate. Participants can look forward to riding some of the most challenging and scenic trails in North America (several ranked in the top 10 in the United States) and expect an average of 20 to 25 miles per day with 4,000 – 5,000+ feet of climbing/descending. This is the first biking event of its kind in North America.
24th Annual Superfly Fishing Tournament, Sept. 5 - 6
Gunnison Angling Society, the local chapter of Trout Unlimited, is hosting its 24th Annual Superfly fishing tournament on Sept. 5 – 6. The tournament will be a classic two-fly contest, meaning each two-person team has to choose the two flies they will be fishing with for the duration of the tournament to catch as many inches of trout as possible. All ages and skill levels are encouraged to participate. Registration includes several meals, awards, guides and more.
Pearl Pass Mountain Bike Tour, Sept. 13 - 14
The 38th Annual Pearl Pass Mountain Bike Tour on Sept. 13 – 14 is the oldest mountain bike event in the world and takes riders from Crested Butte to Aspen via Pearl Pass. In 1976, the first group of 15 or 20 cyclists from Crested Butte rode one-speed town bikes over the 12,705-foot Pearl Pass to Aspen in response to a group of Aspenites riding motorcycles over the same route, parking them in downtown Crested Butte and setting out to meet local women. The Crested Butte rowdies pulled up in downtown Aspen in front of the historic Hotel Jerome. By the early 1980s, the expert ride had grown and become a weeklong festival known as Fat Tire Bike Week. Today, Crested Butte Bike Week is held in June and the Pearl Pass Mountain Bike Tour is in September. For information, call (970) 349-6817.
Vinotok, Sept. 14 – 20
The 29th annual Vinotok kicks off with Celebration of the Harvest Mother held in tandem with the Crested Butte Farmers' Market on Sunday, Sept. 14 from 10 a.m. to 2 p.m. A Vinotok booth for wreath making, grump boxes to submit grumps, costume items and more is planned, and at noon the Crested Butte Dance Collective presents mummers, stilters, jesters, and forest creatures introducing this year's very pregnant Harvest Mother. At 2 p.m. everyone is invited to polka to the Pete Dunda Band at Kochevar's Saloon.
On Sept. 15, Vinotok founder Marcie Telander shares the secrets, ancient lore, origins and mystery of this ultra-unique community harvest celebration at Mallardi Cabaret Theatre at 7 p.m. On Tuesday, help Mountain Roots harvest vegetables in the community garden on Elk Avenue from 9 – 11 a.m. In the evening, women are invited to celebrate the Great Divine Feminine with Telander and Tantric Yogini Monica Mesa at Yoga for the Peaceful at 7:30. Learn the stories and practices of Shakti, Kali, Pacha Mama, Freya and beyond, hear beautiful poetry, indulge in massages and henna body art and more.
Wednesday is the opening of "The Spirit People of Vinotok" from 6 – 7 p.m. at Crested Butte Mountain Heritage Museum. Fabric artist and Vinotok costume designer Audrey Anderson displays 28 of her hand-sewn fabric characters depicting the principle passion players of Vinotok. Immediately following is the Frank Orazem Memorial Storytelling Evening offer a chance to gather around the pot-bellied stove to hear "back when …" tales from local storytellers and enjoy Croatian potica bread and hot chocolate.
The Botsie Spritzer Memorial Liar's Contest brings community members together on Thursday to tell and hear tall tales, whoppers and adventure stories with prizes for the best liar. Held at The Eldo Brewery & Taproom starting at 8 p.m., the Green Man for this year's festival also is announced. A community feast is always held the Friday evening of Vinotok, with this year's dinner of roast pig and seasonal vegetables presented by Mountain Oven on Elk Avenue and First Street. A handfasting ceremony, live music, poetry and short story readings, and wreath making are part of the fun starting at 5:30 p.m.
The Saturday of Vinotok, Sept. 20, is the high point with a cast of medieval characters featuring maidens representing the 12 months of the year, accompanied by torchbearers and flag bearers singing and dancing in the streets and restaurants in the early evening starting at 5 p.m. As night falls, a street theatre production is held on Elk Avenue starting in front of The Eldo at 7:30 p.m. and concludes with a procession to the large parking lot behind the visitor center for the Burning of the Grump (a 20-foot-tall figure stuffed with townspeoples' written-down grumps) and a bonfire.
Costs and more detailed information about Vinotok happenings are posted on the event's Facebook page or call (970) 349-0947.
Mt. Crested Butte Chili & Beer Festival, Mt. Crested Butte, September 20
Get into the spirit of autumn with the annual Mt. Crested Butte Chili & Beer Festival held on Sept. 20 at the base of Crested Butte Mountain Resort ski area. Heat up by sampling great chili prepared by area cook-off contestants, cool off with beers poured by more than 25 microbreweries, and savor live music all afternoon. Each brewery brings three varieties to taste, and chili is judged in categories such as Best International Chili Society Red Chili, Anything Goes, Green Chili, Vegetarian Chili, Best Professional Entry, People's Choice and Best Table Decoration.
Tickets are $25 for early-bird purchases and $30 at the door. All $25 early-bird ticket purchases are entered into a drawing to win free beer for a year from Twisted Pine Brewing. Those who want to enjoy only the chili and music can purchase tickets for $15. Doors open at 11:30 a.m., beer starts being poured at noon and goes until 4 p.m., and chili is served from noon until 2:00 p.m. or until it runs out.
Crested Butte Mountain Runners Trail Runs, Sept. 20 & 24
Crested Butte Mountain Runners wraps up its season with two fall runs, with anyone welcome to take part. On Sept. 20, choose between a half marathon and a 19-mile course for the Camp 4 Coffee Cart to Cart Trail Run, starting at 8 a.m. The 19-mile course includes several trails that connect Crested Butte to Crested Butte South as Camp 4 Coffee has locations in both places. Half marathon participants start on Brush Creek Road and follow the 19-mile course to the finish. The entry fee is $20 for non-members and $15 for members. For a more mellow, 4-mile outing, run with Crested Butte's high school cross country team on Sept. 24 from Crested Butte to Peanut Mine and back on the old railroad grade. The run begins at 6 p.m. and ends with pizza at The Brick Oven. The cost is $5, with all proceeds benefiting the Titan Booster Club.
Crested Butte Film Festival, Crested Butte, September 25 – 28
Taking place annually the last weekend in September, the Crested Butte Film Festival presents award-winning narrative and documentary films from around the world. Expect beauty inside and out with four days of the best of international cinema, coupled with filmmaker talks, visiting actors, parties and easy transport on foot and bike between downtown venues. Many of the films will be Colorado premieres, including a mix of international and U.S. productions, award-winners and newly discovered independent films. A children's film program is free to anyone under age 18. Pass options make it easy and affordable to enjoy the entire 4-day festival and all events.
Fall Lodging Deals
Whether visiting for the Rocky Mountain Gold Rush of fall foliage, Big Mountain Enduro, Mt. Crested Butte Chili & Beer Festival, Vinotok or Crested Butte Film Festival, San Moritz Condominiums in Mt. Crested Butte has a great deal on condominiums starting at $101 per night. Enjoy a great location for events being held at the ski area base or catch the free Mountain Express bus into historic Crested Butte. This offer must be booked by Sept. 23 and is good through Sept. 30, 2014.
For stays happening from Sept. 4 through Oct. 8, 2014, Crested Butte Mountain Resort is offering 20% off lodging. For guests staying over weekends in September, each guest on the reservation also receives a free scenic chairlift ride on Red Lady Express lift, which is open from 10 a.m. – 5 p.m. on Saturdays and Sundays.
Vacation Packages & Visitor Information
To save on flights, hotel rooms, vacation packages, car rentals and more, go to http://www.GunnisonCrestedButte.com/deals. For travel planning and general information, call (800) 814-8893, visit http://www.GCBevents.com and http://www.GunnisonCrestedButte.com and follow GCBTA event promotions on Facebook at http://www.facebook.com/gcbta.