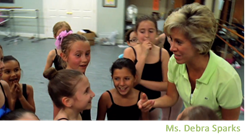 I am honored to have been given this prestigious award. Thank you to my dancers for making me so proud!
Newtown, PA (PRWEB) August 31, 2014
Nothing speaks louder than a prestigious award, given as a result of 30+ years of hard work teaching young dancers. The best part is that Ms. Deb's nomination was a complete surprise, initiated by her loving daughter who's also a dance teacher at the school. With dedication, lots of encouragement, and dancers that love her back, Debra Sparks is passionate about these dancers' dreams, and she really does make them come true.
Below is an e-mail that Ms. Debra received from Discount Dance Supply.
"I hope this morning finds you well. You may or may not know that your students and parents have nominated you for the 2014 Dance Teacher of the Year Award presented by Discount Dance Supply. The recipient was chosen by a selective anonymous committee…your student's amazing poise and deep affection for you warmed the committee's hearts…
It is clear that you are fostering a passion for dance and a lifetime of poise, elegance and professionalism in every student that comes through your doors. We are so grateful for the positive impact you are making on the future generation of dancers. Thank you so much for all that you do every day."
http://blog.discountdance.com/2014-dance-teacher-of-the-year-award-recipient/
Thank you to Discount Dance Supply for awarding Ms. Debra with this incredible honor.
"We owe it all to Ms. Deb," the DSDW students regularly proclaim. The year begins with careful placement of students into the wide variety of dance classes offered by the school. The year ends with a heartfelt moment during Ballet Meets Broadway (the dance school's annual recital) whereby the seniors pay an—understandably emotional—tribute to Ms. Deb for her endless devotion and continued support.
DSDW is a unique environment, one that focuses on professionalism and respect. Ms. Deb marries her decades of experience as a dancer, teacher, choreographer, mother, and entrepreneur with her genuine interest in the students' individual dance goals to yield a nurturing and progressive environment.
Always thinking out of the box, Ms. Deb brings an exciting atmosphere to the dance school. From guest appearances from well-known Master Class teachers to dance FUNdraisers (yes, they're FUN!), this school has so many positive outlets for the dancers to focus upon. It's so much more than just a place to learn great technique!
Register Today for the Fall—Classes Filling Quickly!
About the Studio
When it comes to the best Bucks County dance studio instruction, there's no better mentor than Ms. Debra Sparks. She raises the "barre" with her high standards and nurturing approach to produce the finest of dancers.
Learn More
Throughout the year, Debra Sparks Dance Works hosts a variety of events, including Master classes with guest choreographers from New York, Philadelphia, and Los Angeles. Check out the DSDW dance school video!
Debra Sparks Dance Works offers year-round dance classes, focusing on classical ballet as the primary foundation of training. Classes offered for students of all ages, including dance classes for toddlers (age 2+) to adult:

Acro
Ballet—Classical
Ballet—Contemporary
Ballet—Pointe
Dance Classes for Toddlers
Glee Club
Hip Hop
Jazz
Jazz—Competitive
Jazz—Funk
Jump & Turn
Lyrical
Modern
Musical Theatre
Pilates
Tap
Zumba
For more information about Debra Sparks, the DSDW studio, Master classes, Newtown, Bucks County dance classes, the area's best ballet and dance training, dance classes for toddlers, or for answers to general questions, please call the studio at (215) 579-5678.
Or visit the company's website.
Press release writing by WebSiteText | SEO copywriting by Web Copywriters | Proofreading by The Proofreaders