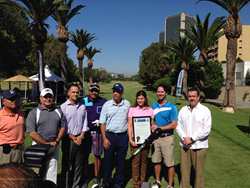 Tijuana, Mexico (PRWEB) August 29, 2014
Cristina Hermosillo, President of Tijuana EDC said, "This is an important acknowledgment to all of us who are actively involved in promoting our mega-region; this gives us the message that we are in the right track towards strengthen the relationship with the San Diegan business community."
"We aim to continue developing a binational platform for co-innovation, and in a near future we will see products with a stamp of "designed, developed, and made in Cali Baja."
"One economy shared by two sister cities" said Councilmember Kersey during his proclamation speech. He has been an active promoter of Cali Baja, highlighting binational collaboration as a catalyst for economic growth in both sides of the region. Recently, he headed the first binational economic development meeting, along with his committee partners from San Diego and Tijuana.
For 25 years Tijuana EDC has fostered business opportunities between San Diego and Tijuana industry, offering to manufacturing companies and industry suppliers a portfolio of services free-of-charge and facilitating their integration into Baja California´s manufacturing industry supply chain. It has been also a key promoter of bi-national collaboration, supporting initiatives like the Cali Baja Bi-National Mega-Region and The Smart Border Coalition.
About Tijuana EDC:
Founded in 1989, the non-profit Tijuana Economic Development Corporation (DEITAC as its acronym in Spanish) has been dedicated to helping companies of all types take advantage of the benefits found in the Tijuana- San Diego region. With over 100 private-sector members from both sides of the border who are experts in areas like industrial development, construction, law, accounting, custom brokerage and logistics, maquiladora/shelter services and more, the Tijuana EDC can help your company map out a new path to profits and competitiveness.