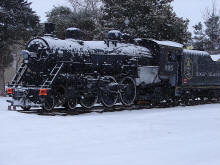 Duncan, OK (PRWEB) September 02, 2014
Join fellow train enthusiasts for this wonderful, family friendly inaugural event at the historic 905 Rail Road Museum, Depot and Welcome Center located in Fuqua Park, intersection of Hwy 81 and Beech Ave, in Duncan, OK.
Beginning at 6 pm, visitors will be able to eat, drink and be entertained by country music entertainers Jennifer Massey Pelley, Lela and Michael Dalby, Arnold May and Jacqueline King as well as The Marlow Gunfighters. Be one of the first for the grand opening of the Caboose exhibit and for the first time in fifty years, step into the 905 steam engine's cab. Tour the museum depot, ring the bell, run the miniature trains and take your family photo alongside the historic train.
Admission is free, with food and drink available for purchase. For more information contact The Duncan Convention and Visitors Bureau at 1-800-782-7167 or http://www.duncanok.org.