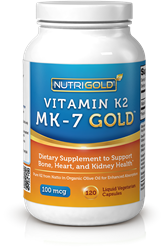 We are extremely pleased and proud of the fact that we were able to take a product that was already the best-in-class and make it even better.
Orem, UT (PRWEB) August 31, 2014
In an effort to ensure that NutriGold products continue to meet the highest standards of our discerning customers, including those with dietary restrictions (e.g. vegan, vegetarian, kosher, gluten-free), our Vitamin K2 MK-7 GOLD has been reformulated and has a brand new look, but without sacrificing or compromising on the outstanding quality that consumers have come to expect from NutriGold.
Provided below is a brief summary of the changes to our product:
Improved Formulation: The active ingredient is still solvent-free K2 (as MK-7) from fermented, non-GM soybeans, and suspended in a base of extra virgin olive oil clinically-proven to improve its bioavailability. The new formulation is contained in a liquid vegetarian capsule instead of bovine gelatin softgel making it suitable for vegetarians/vegans. Organic Sunflower Lecithin has also been added to ensure product integrity during manufacturing
New Dark [Chocolate] Brown Appearance: Because the product now contains Organic Sunflower Lecithin, the capsule contents are a dark [chocolate] brown color instead of the "golden" appearance of previous production lots of the product. An added benefit of Organic Sunflower Lecithin is that it can work synergistically with Vitamin K2 __title Vitamin K2 to support heart health.
Same Great Quality: The product still contains 100 mcg of solvent-free Vitamin K2 (as MK-7) from fermented non-GM soybeans in each liquid vegetarian capsule, has been validated by independent third-party labs to meet label claims, and, when verification is complete, will be the ONLY Vitamin K2 product in Organic Olive Oil that is Non-GMO Project Verified to be free of GMOs.
NutriGold's Marketing Director, Kristina Booth, asserted that Vitamin K2 MK-7 Gold with improved formulation will meet customers high standards and expectations and that NutriGold is extremely pleased and proud of being able to take a product that was already the best-in-class and make it even better. Consumers should contact NutriGold's knowledgeable customer service team with any questions or need for clarification regarding the new and improved Vitamin K2 GOLD product.
ABOUT NUTRIGOLD
NutriGold is a science-based nutraceutical company committed to identifying, developing, and offering cutting-edge nutraceutical products. With a portfolio of best-in-class products at reasonable prices backed by unmatched service, NutriGold is helping define the standards for the rest of the industry to follow.