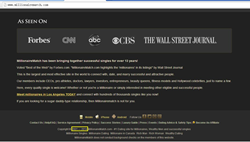 (PRWEB) August 31, 2014
Millionaires are busy, successful, wealthy and/or famous bachelors. Where do they go to find their soulmate? They might try the largest millionaire dating site in the world – MillionaireMatch.com. It is celebrating its fourteenth year in the business of matchmaking. The site was voted "Best of the Web" by Forbes.com and has been featured in such media as the Wall Street Journal, CNN, ABC, and CBS. Charlie Sheen and Matthew Perry have both admitted to using the site and it even maintains a "celebrity concierge" whose job is to assist the more famous well-to-do with their profiles and other nuts and bolts of finding love 21st Century Style.
MillionaireMatch.com's members include pro athletes, doctors, investors, lawyers, CEOs, entrepreneurs, beauty queens, fitness models and of course the aforementioned Hollywood celebrities. Of course, not everyone has to be a millionaire to join the site. Which is also sort of the point – where else might a non-millionaire meet a millionaire, after all? But for those who are interested in letting people know they're especially secure in their finances, MillionaireMatch offers a "Certified Millionaire" option by submitting financial information in the form of a tax return from the previous financial year showing earnings over $200,000, or if that's too much personal information, they may submit a bank statement.
In an effort to publicize their site a bit more among the elite, MillionaireMatch.com recently contributed VIP lifetime memberships for the MTV Music Awards gift bags which were given out to celebrities backstage.
Specialized niche sites like MillionaireMatch.com have proliferated the past years, but MM is really the pioneer of the whole lucrative trend. They're considered one of the most generous online companies by their affiliates – those external sites that help steer traffic to the company. Since their founding, they've paid out more than $5 million to their affiliate partners and they offer the amazing deal of $2 for every free membership signup and $80 for every paid membership that comes through a partner.
For more details, visit http://www.MillionaireMatch.com.