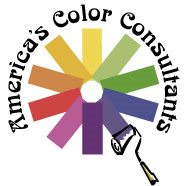 Color consultants are becoming more recognizable members of the interior design community: America's Color Consultants looks to boost that profile with their franchises.
Falls Church, VA (PRWEB) September 04, 2014
Co-founders Florence Jones and Susan Brackna Mintz are thrilled to announce the creation and launch of America's Color Consultants, the first color consulting franchise in the United States. Designed as a home-based business, America's Color Consultants help people select fresh paint colors for their home with in-home consultations.
The popularity of HGTV and other design networks has resulted in people excited to lose their "builder beige" and experiment with color, but lacking the confidence to choose the "right" color. At the same time, people love what they already own and don't want to engage a pricy interior decorator who wants to redo everything. An America's Color Consultant meets this need by offering affordable in-home consultations and working with the client to select paint colors they love that complement their current furnishings, art and lighting.
Ms. Jones and Ms. Mintz started the business in Northern Virginia in 2007 as Arlington Color Consultants to utilize their diverse artistic and design talents within the booming home improvement industry (expected to be $309 billion in 2014, according to the Home Improvement Research Institute). Each brings over 25 years of experience as successful entrepreneurs; Ms. Jones as a graphic artist, author and web-designer, and Ms. Mintz as a home renovation consultant and public relations specialist. They were able to grow the home-based business while, importantly, maintaining flexibility in their busy, changing family lives.
America's Color Consultants is the product of years of experience and business development, and the desire to share the success of the business model with other entrepreneurial women having an aptitude for color, art and design. It is ideal for those who desire flexibility in their work schedules: ideal for stay-at-home moms and career changers, and is also perfect for
partnerships.
The formal franchise documents were researched and developed by Franchise Marketing Systems, a national leader in the franchise industry. VA, MD, DC and CA are first up for franchise opportunities, and all inquiries are welcome. Contact Florence Jones at 703-241-8548 or Susan Brackna Mintz at 703-362-3131.