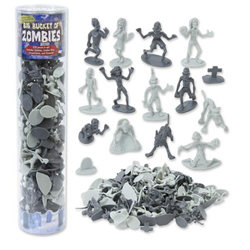 Milford CT (PRWEB) August 31, 2014
Zombies are at an all-time height of popularity, spurred by hit TV Shows like Walking Dead and ultra popular Apps such as Plants vs Zombies among others. SCS Direct Inc , a product development company in Milford CT, is bringing the love for zombies right into your child's toy closet with their Big Bucket of Zombies Action Figure Collection.
Just as the name suggests, SCS's giant bucket features Zombies in all shapes and sizes. There are male and female zombies, brain eating zombies, walking zombies, and even zombie cats and dogs. To make this big bucket complete, each set comes with gravestones and human characters, all figures in two colors, so enthusiasts can create amazing undead battles.
"The uses of zombies are endless - from cake toppers, to dioramas, to office decorations to simple imagination play, " notes Howard Greenspan, Owner of SCS Direct Inc. "There is nothing like it on the market and they sure beat playing with army men."
The set retails for $19.95, but don't be fooled. The detail level on each piece is uncanny. According to SCS Direct, the set took over 2 years to create due to each piece being sketched, sculpted, and molded prior to production.
SCS Direct Inc was founded in 1998 and develops and manufactures hundreds of unique products across many industries, including housewares, baby products, and toys. The company has been featured on the Inc 500 fastest growing company list and its products have won many innovation awards.
Their Big Bucket of Zombie Action Figures can be found on their website or on Amazon.com, among other specialty retailers.