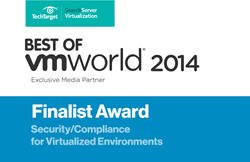 Secret Server helps eliminate the risks associated with Shadow IT and improve efficiencies by managing privileged accounts across a diverse set of servers and applications.
Washington, D.C. (PRWEB) September 02, 2014
Thycotic, provider of smart and effective privileged access management solutions for global organizations, today announced that its flagship solution, Secret Server, has been named a finalist in the "Security and Compliance for Virtualized Environments" category at the Best of VMworld 2014 awards. A team of independent judges comprised of experts and editors from SearchServerVirtualization.com reviewed and evaluated more than 200 products in nine categories. Products were judged according to innovation, value, performance, reliability and ease of use.
Secret Server was selected as a finalist due to its ability to automate the discovery of local accounts on VMware ESX/ESXi while easily updating root passwords, allowing VMware administrators to discover and manage ESX hypervisors as well as all guest machines. Secret Server helps eliminate the risks associated with Shadow IT and improve efficiencies by managing privileged accounts across a diverse set of servers and applications.
"We're honored that the independent panel of judges recognized the value of Secret Server's enhanced offerings to create, share and manage enterprise passwords in virtualized environments," said Jonathan Cogley, CEO of Thycotic. "Our goal is to make it easier than ever for IT administrators and non-IT staff alike to comply with security policies and regulatory requirements through more effective management of privileged access across an entire organization."
For more information, please visit http://thycotic.com/products/secret-server/features/discovery/
About Thycotic
Thycotic deploys intuitive, reliable solutions that empower companies to remove the complexities associated with proper control and monitoring of privileged account passwords. A 2014 Inc. 5000 company, Thycotic is trusted by more than 100,000 IT professionals worldwide – including members of the Fortune 500, enterprises, government agencies, technology firms, universities, non-profits and managed service providers. To learn more, please visit http://www.thycotic.com.
About SearchServerVirtualization.com
SearchServerVirtualization.com™ is an enterprise virtualization-focused website providing IT professionals and the community with the latest server virtualization news, articles, tips, and expert advice. Other virtualization information includes webcasts and industry white papers covering all areas of server virtualization, such as virtualization platforms, server hardware, managing virtual environments, virtualization architecture and strategies, application issues, and more.
Its sister site SearchVMware.com™, is dedicated to helping IT organizations evaluate products, services and business strategies that can lead them to successful implementations of virtualization technologies in VMware environments. And sister site SearchVirtualDesktop.com™ is the premier source for information on desktop virtualization, application virtualization, and virtual desktop infrastructure.
About TechTarget
TechTarget is the Web's leading destination for serious technology buyers researching and making enterprise technology decisions. Our extensive global network of online and social media, powered by TechTarget's Activity Intelligence™ platform, allows technology sales and marketing teams to leverage real-time purchase intent data to more intelligently engage technology buyers and prioritize follow-up based on active projects, technical priorities and business needs. With more than 120 highly targeted technology-specific websites and a wide selection of custom advertising, branding, lead generation and sales enablement solutions, TechTarget delivers unparalleled reach and innovative opportunities to drive technology sales and marketing success around the world.
TechTarget has offices in Atlanta, Beijing, Boston, Cincinnati, London, Munich, Paris, San Francisco, Singapore and Sydney.
To learn how you can engage with serious technology buyers worldwide, visit techtarget.com and follow us @TechTarget.
For further information, please contact:
Michelle Barry
Davies Murphy Group for Thycotic
T: 781-418-2462
E:thycotic(at)daviesmurphy(dot)com