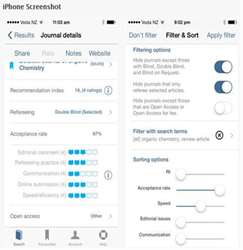 Covering over 5,500 Journals across 13 subject areas there have been over 1250 Journal Editors contributing to HelpMePublish so far
(PRWEB) September 03, 2014
HelpMePublish (HMP) is a new mobile application for academic researchers aiming to increase their research publication.
The HMP project is the brain-child of Associate Professor James Maclaurin, from the Department of Philosophy at the University of Otago in New Zealand. Used in over 20 countries, it is designed to help junior and mid-career researchers to succeed in the 'publish or perish' world of academic research by connecting them more effectively with journals that suit their research and their circumstances.
HMP allows researchers to search for journals in their subject area in a more targeted way. To date the HMP team have created a 'whitelist' database of about 5,500 journals in 13 subject areas across Arts, Business and Science. All delivered to your iPhone or iPad through iTunes.
In addition to the detailed information about each journal built into the app, the HMP server polls journal editors, over 1,250 of whom have so far contributed key information to HMP such as acceptance rates, publication fees, and refereeing style (e.g. double-blind, single-blind etc.). This is information not readily available in the public domain, which makes HMP a valuable resource for busy researchers.
Researchers can also rank their experiences with journals through HMP's crowdsourcing capability. This allows researchers looking for journals to publish in to benefit from the combined publication experiences of other researchers.
HMP is available on the iTunes Appstore. Basic information about all journals on the app is free. Full information requires a modest subscription either from individual researchers (US$5 per year) or from subscribing institutions (such as universities; US$125 per month). A 60 day free trial for institutions is available. For more information, please visit http://www.helpmepublish.org.