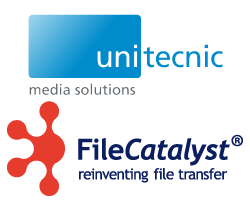 This partnership with FileCatalyst provides our customers with industry leading technology
Ottawa, Canada (PRWEB) September 08, 2014
Unlimi-Tech Software, Inc., a pioneer in managed file transfers and the creator of FileCatalyst, a world leading accelerated file transfer solution, is pleased to announce a new channel distribution partnership with Spanish system integrator, Unitecnic Media Solutions.
Founded in 1995, Unitecnic specialises in broadcast engineering and multimedia systems integration. Unitecnic designs, develops, and delivers turn-key engineering projects from the initial advisory and consultancy stages through to the integration, installation, and maintenance of implemented systems. With offices in Barcelona and Madrid, the team of professionals at Unitecnic provides hands-on expertise to offering consultancy at every stage of the production process, including organizing work flows and work stations, training, execution, and operation. Some of the company's customers include: beIN Sport, DirecTV, ESPN, Al Jazeera, Atresmedia, RTVE, Fox, BBC, GOLTV-USA, LanzhouTV, DubaiTV, Belgacom, F.C. Barcelona, Real Madrid, and many more.
FileCatalyst has partnered with Unitecnic to provide the latest in accelerated file transfer technology to their media and broadcasting clients looking to increase the speed of file transfers without compromising security and reliability. FileCatalyst's platform is immune to packet loss and latency while transferring large files, proving ideal for Unitecnic's clientele. While other methods of file transfer are unable to keep up with increasing file sizes, FileCatalyst ensures the transfer of any file, of any format or size, at speeds up to 10 Gbps.
"This partnership with FileCatalyst provides our customers with industry leading technology," said Jordi Pañella, CEO of Unitecnic. "Our customers are our priority and being able to provide the best is important to us - and them."
"We're thrilled to announce this partnership with Unitecnic," said Alan Atkinson, Unlimi-Tech's Vice President of Business Development. "Unitecnic is a company with a great reputation known for providing solutions. FileCatalyst offers a unique technology that can be used to solve many challenges with file transfer."
About Unlimi-Tech
Located in Ottawa, Canada, Unlimi-Tech Software is the creator of FileCatalyst, a world leading accelerated file transfer solution. Founded in 2000, the company has more than a thousand customers in media & entertainment, energy & mining, gaming, and printing, including many Fortune 500 companies as well as military and government organizations. FileCatalyst is an Emmy Award winning software platform designed to accelerate and manage file transfers securely and reliably. FileCatalyst is immune to the effects that latency and packet loss have on traditional file transfer methods like FTP, HTTP, or CIFS. Global organizations use FileCatalyst to solve issues related to file transfer, including content distribution, file sharing, and offsite backups. To learn more visit http://www.filecatalyst.com or @FileCatalyst on Twitter.
About Unitecnic Media Solutions
Unitecnic, a well respected Spanish Broadcast Systems Company, designs, installs and supports turnkey projects and is fully trained in designing, selling and supporting media and broadcast workflow solutions. Unitecnic has years of experience in broadcast projects in Middle East, Asia, Europe and America, for clients like Al Jazeera Sports, SRPC-SRMG, ESPN, LaSexta, Belgacom and GolTV. Further information is available at http://www.unitecnic.com