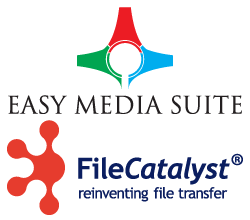 The integration with FileCatalyst is one of the best decisions we've undertaken for future development
Ottawa, Canada (PRWEB) September 08, 2014
Unlimi-Tech Software, Inc., a pioneer in managed file transfers and the creator of FileCatalyst, a world leading accelerated file transfer solution, is pleased to announce a integration partnership with Devtek, a broadcast software development company and developer of Easy Media Suite.
Founded by Osman Yel in 2006, Devtek, based in Istanbul Turkey, is an international company manufacturing, designing, and developing products for broadcast automation, including Easy Media Suite. With more than a thousand customers, the company is innovative and competitive having designed for 4K 50 p Playout. Devtek is trusted by large, successful companies and continually delivers experiences beyond expectations.
FileCatalyst acceleration technology has been seamlessly integrated into DevTek's Easy Media Suite's Easy Ingest solution. Easy Ingest is professional ingest software with live video and audio source, recording in high resolution and high quality. Integrating FileCatalyst into this solution allows for users to define rules to send the converted file to any location worldwide at maximum rates without being slowed by network latency and packet loss often experienced with TCP/IP. The FileCatalyst accelerated file transfer protocol offers exceptional speed gains versus traditional methods, allowing user transfer speeds that can be many times faster than FTP, and in some cases over hundreds of time faster.
"The integration with FileCatalyst is one of the best decisions we've undertaken for future development," said Sonya Chakarova, General Manager of Easy Media Suite.
"At FileCatalyst, we're thrilled to partner with Devtek, a broadcast company with a strong reputation," said Unlimi-Tech Software, Inc.'s Vice President of Business Development, Alan Atkinson. "Pairing FileCatalyst with Devtek's broadcast software development technology provides a high quality solution at a reasonable cost."
About Unlimi-Tech Software, Inc.
Located in Ottawa, Canada, Unlimi-Tech Software is the creator of FileCatalyst, an Emmy Award winning world leading accelerated file transfer solution. Founded in 2000, the company has more than a thousand customers in media & entertainment, energy & mining, gaming, and printing, including many Fortune 500 companies as well as military and government organizations. FileCatalyst is a software platform designed to accelerate and manage file transfers securely and reliably. FileCatalyst is immune to the effects that latency and packet loss have on traditional file transfer methods like FTP, HTTP, or CIFS. Global organizations use FileCatalyst to solve issues related to file transfer, including content distribution, file sharing, and offsite backups. To learn more visit http://www.filecatalyst.com or @FileCatalyst on Twitter.