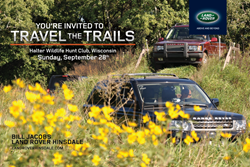 Last year's excursion had over 30 new and vintage Land Rovers and over 100 attendees. We take pride in providing fun opportunities for our customers to experience their vehicle in an off-road setting.
Hinsdale, IL (PRWEB) September 03, 2014
Land Rover Hinsdale's annual Travel the Trails Off – Road Event for their customers will take place on Sunday, September 28th at Halter Wildlife Hunt Club in Pleasant Prairie, WI. The day long adventure will allow their guests to experience the off-road capabilities of their own Land Rover—something that many drivers miss out on during their day-to-day city and highway driving.
The day's activities include scenic trail rides along the banks of Des Plaines River, as well as exciting driving challenges on a purpose-built course with muddy trails, gravel mountains, steep terrain, and other tough obstacles that only a Land Rover could handle. Lunch is also provided for guests, as are prizes for everyone in attendance.
"We look forward to this event every year," said John LaRock, Land Rover Hinsdale Center Manager. "Last year's excursion had over 30 new and vintage Land Rovers and over 100 attendees. We take pride in providing fun opportunities for our customers to experience their vehicle in an off-road setting, allowing them to let loose with the powerful and versatile capabilities Land Rovers are known for."
About Land Rover Hinsdale
Part of Bill Jacobs Motorsport, Land Rover Hinsdale takes pride in delivering a level of customer satisfaction beyond your expectations. They create a shopping experience that matches the luxury products they represent. Professional, well-informed, friendly Sales and Service representatives build one-on-one relationships with each customer. Land Rover Hinsdale is proud to be the #1 Certified Pre-Owned sales volume leader in Illinois. (Land Rover May 2014 monthly sales report). Bill Jacobs is a name you can trust, and has been in the automotive business for over 50 years. For more details, please call Bill Jacobs Land Rover Hinsdale at (866) 857-7638 or log on to http://www.landroverhinsdale.net