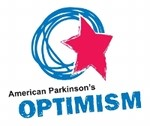 I have Parkinson's, but Parkinson's does not have me
New York, New York (PRWEB) September 03, 2014
"I have Parkinson's, but Parkinson's does not have me."
These compelling words are from Elke, a person living with Parkinson's disease (PD) and a participant in the American Parkinson Disease Association's (APDA) Live with Optimism new Public Service Announcement (PSA). APDA will host two exclusive screening events, one September 11th in Newport Beach, California and the other September 17th in New York City. This screening event will also mark the launch of "$1 Million for 1 Million," a public awareness and fundraising initiative designed to increase awareness of the disease and APDA. The campaign is meant to infuse critical dollars to support expanded research, health & wellness, and education programs that will combat this neurological movement disorder which touches 1 million lives in the United States alone and currently has no cure.
Elke's words represent the spirit of optimism this nationwide PSA hopes to convey. The awareness campaign was developed to drive change in perceptions about Parkinson's disease and raise awareness of APDA's 50+ year mission to Ease the Burden – Find the Cure.
Every nine minutes a new person learns they have Parkinson's disease.
"APDA has the potential – every nine minutes – to help another individual or family cope with PD by providing access to our education and wellness programs, connecting them with a support group or guiding them to find critical resources through our vast network of chapters and Information & Referral Centers throughout the country. Through this PSA and the "$1 Million for 1 Million" public awareness and fundraising campaign, we have the opportunity to truly help those impacted by PD to live with hope and optimism," said APDA President & CEO, Leslie A. Chambers.
The September 11th APDA PSA screening will be held at The Port Theater, 2905 East Coast Highway, Corona del Mar, California from 5:30 to 8 p.m. The evening will include appearances by all of the individuals living with Parkinson's disease featured in the PSA along with the Creator/Executive Producer, Larry Strauss and Director/Producer Autumn McAlpin.
Mr. Strauss, a Hollywood veteran of stage and screen has been living with PD for 10 years. He has acted and danced in films such as Out To Sea, White Knuckles, The Old Man and the Ceiling, Devils Are Dreaming, Mrs. Harris, and Shadow. Ms. McAlpin is currently producing a new feature film Waffle Street starring James Lafferty and Danny Glover. As Principle Partner of Side Gig Productions, Autumn's portfolio of work includes PSAs, award-winning short films, feature films and writing credits that include Real World 101 and a regular column for The Orange County Register. Autumn explains, "I have a special interest in creating projects that bring awareness to those living with disabilities and when Larry approached me to work on this exciting PSA, I simply had to be a part of it!"
The September 17th APDA screening will be held at The Paley Center for Media, 25 West 52nd Street, New York, NY from 6 to 8:30 p.m. The event will feature a special performance by folksinger Grace Griffith whose music career has spanned three decades, during which time she has amassed a collection of Washington Area Music Association Awards and other honors.
Diagnosed in 1998 with PD, Grace's life profoundly changed in many ways. "Although my voice is affected, I can still sing. It's been an adjustment for me to go out on stage when I'm having dyskinesia (abnormal, involuntary movements), and I'm slow and stiff and off balance. My fans and friends have encouraged me to keep singing and I owe the world to those who have stood beside me and make it possible for me to get through each performance." Grace recently released a new album entitled Passing Through (Blix Street Records). Her music and the strength it took to record this album epitomizes the optimism the PSA represents.
The Public Service Announcement will begin to air on September 12th and include 60, 30, and 15 second TV and radio and print spots that will be nationally distributed. Through the Live with Optimism PSA and "$1 Million for 1 Million" public awareness and fundraising campaign, APDA hopes to encourage individuals to visit a specialized website http://www.apdaoptimism.org to gain immediate access to PD resources and learn more about APDA.
# # #
The American Parkinson Disease Association (APDA) was founded in 1961 to Ease the Burden - Find the Cure for Parkinson's disease. Headquartered in New York, the organization focuses its energies on research, patient services, education and raising public awareness about the disease. APDA supports eight Centers for Advanced Research, Regional Information and Referral (I&R) Centers, chapters throughout the country, and support groups nationwide. APDA has raised and awarded more than $86 million to fund research and patient services while participating in the funding of most major PD scientific discoveries.