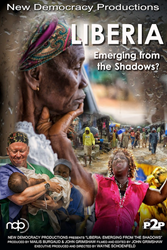 "We may think that Ebola is a small threat to us here in North America, a tragedy confined to a few West African countries. But Ebola is a threat to us all, only one passenger on one airplane flight away". Director Wayne Schoenfeld
Los Angeles, California (PRWEB) September 05, 2014
Director Wayne Schoenfeld and New Democracy Productions release "Libera: Emerging from the Shadows?", a topical and troubling look into the current economic and health concerns that plague the small African country. By using their documentary as a springboard to bring the people's plight to a Western audience, they hope to raise funds to aid the Liberian people against the ongoing ebola outbreak.
"Liberia: Emerging from the Shadows?" chronicles Liberia's current medical and monetary problems as well as their violent past, including a 14-year civil war that killed 250,000 people and left the country's infrastructure in shambles. The film also highlights positive steps being taken by the government, local business leaders and ordinary citizens in finding ways to improve conditions in the 4th poorest country in the world.
Take part by downloading the Liberia documentary for free or streaming the video from the official movie site at http://www.newdemoprod.blogspot.com/p/liberia.html or on Facebook at http://www.facebook.com/NDPP2P
Initially filmed in 2013, "Liberia: Emerging from the Shadows?" was re-edited in August 2014 to include recognition of several of the documentary's subjects who succumbed to Ebola as the film was nearing release. NDP is encouraging donations through humanitarian organizations providing aid to Liberia and West Africa during the Ebola Crisis.
"Liberia has endured fourteen years of the most brutal civil war imaginable, corruption galvanized by generations of untrained and irresponsible leaders, racism at the core of the country's roots and now the invisible enemy of Ebola," said Director Wayne Schoenfeld, "We may think that Ebola is a small threat to us here in North America, a tragedy confined to a few West African countries. But Ebola is a threat to us all, only one passenger on one airplane flight away."
Public screenings of the documentary are being scheduled over the next several months to raise awareness of the plight of the Liberian people and to raise donations for charities fighting the Ebola epidemic in West Africa.
About New Democracy Productions
New Democracy Productions is a multi-media production company founded by award-winning film maker and photographer Wayne Schoenfeld. NDP produces social cause documentary films, photography, books and exhibitions worldwide, donating proceeds to a several NGO's and non-profit organizations.
For additional information, go to http://www.newdemocracyproductions.com