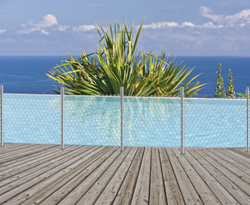 Cutsom printed mesh fence screens.
Pacoima, CA (PRWEB) September 04, 2014
FenceScreenDepot.com has a wide assortment of custom printed mesh fence screens used for both residential and commercial purposes. Fence covers provide both practical and aesthetic utility for homes, businesses, tennis courts or construction fields . For example, the company's privacy mesh fence screen is used to provide shade and privacy for fences that surround both commercial and residential pools.
Albert Rodriguez, spokesperson for Fence Screen Depot, stated, "We are excited about the launch of the website as it will help us scale our business while providing our products to consumers all over the world. The site features secure online ordering and a toll-free number new and existing customers can contact to speak with one of our knowledgeable team members. We can manufacture fence screen in any size, shape and color."
One of the company's most innovative products is its custom printed fence screen. This type of fence screen provides privacy, protection from the elements and can display colorful graphics, photos and logos. The durable outdoor mesh fabric can withstand the harshest elements and will look great for years. A custom fence screen provides a lot of personality, and is an excellent way to promote events such as concerts, sporting events and business locations.
In addition, the site features several fence coverings including:
Construction mesh tarps – construction tarps are used for a wide variety of applications on a construction site. The tarps are lightweight yet durable and are often used for protection from the elements. Tarps are utilized for roofing protection, wall covering, erosion protection and more.
Tennis court fence screen – tennis court fence screen is an inexpensive way to provide shade and protect from the elements. Tennis court fence screen at FenceScreenDepot.com starts at just $1.35 per square foot. The screen will help keep debris out of the court while keeping the wind at bay.
Sun shade mesh – sun shade mesh is ideal for patios, canopies and any other outdoor locations that need protection from the sun. Sun shade mesh is the ideal way to keep cool in the summer while protecting the outdoor possessions from sun damage.
Fence windscreen – Fence windscreen is an ideal solution designed to provide wind protection and blockage from the sun. Fence windscreen is simple to install and starts at just $1.35 per square foot. FenceScreenDepot.com has a variety of colors to match the surroundings and décor.
For more information about Fence Screen Depot visit them on the web at FenceScreenDepot.com
About Fence Screen Depot
Fence Screen Depot is a California-based manufacturer specializing in the sale of fence covers and screens commonly used in commercial and residential applications. Fence Screen Depot manufactures fence screens in any size, shape and color.