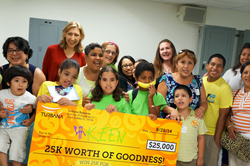 Coral Gables, Florida (PRWEB) September 03, 2014
After a month of encouraging individuals to vote, share and voice their opinion in Turbana's "Win 25K For Your Cause" Facebook contest, the leading banana producer has tallied the votes and is happy to announce that KEEN New York is the official winner of a $25,000 partnership. The interactive and fully integrated campaign gave Turbana's community the power to make a difference in a big way by providing an opportunity for them to nominate and vote for causes that were close to their own hearts. Turbana plans to immediately begin working with the organization to concept a new program worth $25,000 that will benefit the KEEN New York community.
"Turbana believes that community involvement is about more than donating money, it's about working directly with the community," says Juan Alarcon, CEO of Turbana. "We want to establish a dialogue directly with the community to ask them what they need the most, and then work hand in hand toward a common goal. We've been operating this way ever since we first started working with our farmers and growers in Colombia. We truly believe this hands-on approach results in greater community empowerment and more sustainable results."
Turbana set out to inspire the community to take a stand for causes they believe in, and the company sees the results of the contest as a big win. The campaign garnered over 36,100 total votes from the public across 85 individually nominated causes. KEEN New York took an overwhelming lead with 6,745 votes and the wholehearted support of a very vocal community. The organization runs community programs in the New York City area that provide one-to-one recreational opportunities for children and young adults with developmental and physical disabilities at no cost to their families. KEEN's mission is to foster the self-esteem, confidence, skills and talents of its athletes through non-competitive activities, allowing young people facing even the most significant challenges to meet their individual goals.
"Thanks to Turbana's generosity and the voting tenacity of KEEN's deeply dedicated parents and volunteers, more kids with disabilities in the New York Metro area will be able to say, 'The best days are KEEN days!' as KEEN's free sports and recreation programs expand," says Maggie Harrison, Executive Director at KEEN New York. "We are thrilled to have won and thank our entire community for their support of KEEN New York."
"Turbana is thrilled to be partnering with KEEN New York," says Marion Tabard, Marketing Director of Turbana. "KEEN New York's is a beautiful organization whose values perfectly align with Turbana's and we are looking forward to creating a program that is going to grow smiles and share goodness among Keen's community."
The "Win $25K For Your Cause" initiative is part of a larger movement launched by Turbana in 2013, called "Growing Smiles, Sharing Goodness" which seeks to inspire individuals to eat smart, be active, and get involved in their communities.
About Turbana
Established in 1970, Turbana Corporation is a leading importer of bananas in North America, including, plantains, pineapples, and ethnic tropicals. Turbana is proud to have been the first organization to bring Fair Trade Certified bananas to North America. A pioneer in sustainability and social consciousness, Turbana has developed the farming communities in the banana and plantain-growing regions over the past 44 years through its social foundation, Fundauniban. Turbana gives a portion of every purchase to Fundauniban, contributing to the $250 Million the foundation has invested in social and economic projects for education, housing, infrastructure, and environmental protection since 1987. Additionally, Turbana invests in its communities across the US, helping them build sustainable and healthy practices. Turbana is owned by Uniban, the world's largest grower-owned banana company and the world's largest producer of Fair Trade Certified bananas and plantains, and Fyffes, one of the largest produce importers and distributors in Europe. For additional information, please visit, http://www.turbana.com.