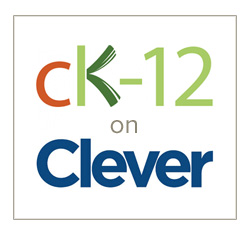 In this day and age, all schools and districts should have easy access to high quality digital open content through a single sign on.
Palo Alto, California (PRWEB) September 03, 2014
CK-12, a leading non-profit provider of free STEM curriculum for middle and high school, announced today that it is partnering with Clever, which provides students and teachers single sign-on access to their favorite applications, and provides districts simple and secure integration with their student information system (SIS). The partnership with Clever will make it easier for districts to deploy CK-12, and for users to access their customizable CK-12 Math and Science content. This includes their full range of digital textbooks, unit sized concepts, videos, practice, assessment, quizzes, real world examples, and interactive digital content. The collaboration relieves teachers from scouring the web for content, and also helps reduce costs of providing expensive textbooks. It also relieves them from the burdens of administrative data management, freeing more time to focus on students.
"In this day and age, all schools and districts should have easy access to high quality digital open content through a single sign on. This is particularly important in education, where forgotten passwords and poor integrations cost class time and can impede student outcomes," said Neeru Khosla, Executive Director at CK-12. "At CK-12, we are thrilled that districts can now provide their schools instant access to high quality OER content through Clever."
Tyler Bosmeny, CEO of Clever, added, "Teachers always need access to great customizable content and CK-12 makes it simple for teachers to find those materials across middle and high school Math and Science. The level of interactivity and the depth of coverage of K-12 content is amazing. We're delighted to be partnering with CK-12 and facilitating access in a secure and simple way."
CK-12 provides free digital textbooks, customizable by teachers as well as supplemental content available in multiple modalities such as text, videos, interactive practice, teacher guides and more. CK-12 is currently available through Clever Instant Login (https://clever.com), and automated rostering will be available later this fall. For more information, schools should contact their partnership manager at CK-12.
About CK-12
CK-12 provides open-source content and technology tools to help teachers provide learning opportunities for students globally. Free access to high-quality, customizable educational content in multiple modalities suited to multiple student learning styles and levels will allow teachers, students and others to innovate and experiment with new models of learning. CK-12 helps students and teachers alike by enabling rapid customization and experimentation of teaching and learning styles. Learn more at http://www.ck12.org.
About Clever
Clever is the simplest way for schools to keep their learning software in sync with their existing student information systems. Over 25,000 schools across the United States use Clever, and over 100 innovative software applications now integrate with Clever.. In 2012, the SIIA named Clever the "Most Innovative Company in Education," and in 2013, Clever was awarded first place at SXSWedu. Clever's headquarters are in San Francisco, CA. For more information contact Clever at (415) 562-6483, press(at)clever.(dot)com, or https://clever.com.