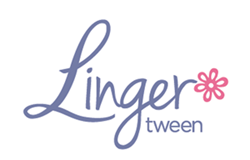 Spring Lake, NJ (PRWEB) September 03, 2014
Lingerie specialist Kelly O'Brien recently launched what appears to be the first U.S. e-commerce site dedicated to first bras and other undergarments for tweens.
O'Brien started LingerTween in response to a question she was repeatedly asked by moms visiting her brick-and-mortar shop, called Linger:
"Where can I get a bra for my pre-teen daughter?"
"Moms were telling me that their tween girls were too old for 'princess' underwear but not ready for Victoria's Secret," O'Brien says. "And by 'ready,' they didn't mean just physical development."
They didn't want their 8- to 12-year-olds exposed to the overly sexualized body images in many adult lingerie shops, and the big-box atmosphere just wasn't suitable for intimate purchases such as training bras and other undergarments for tweens. They also wanted more choices than are available in many department stores.
"LingerTween solves all of those problems by providing a wide variety of fashionable and tween-appropriate choices in a setting where both moms and daughters feel comfortable," O'Brien says, adding that multiple manufacturers are represented. "The trick is to balance what's in fashion with what's appropriate."
The age at which girls enter puberty has been getting younger and younger in recent decades, according to numerous studies. The average age is about 9, with some ethnicities a little younger and others a few months older. That creates a new need in the marketplace: undergarments for tweens.
"Tweens have social, emotional and physical developmental needs that are different from children who are a little younger or a little older," O'Brien says. "They may be shy and worried about calling attention to themselves by wearing a bra, so there are options for them. Or, they want a first bra not because they need it physically, but because other girls their age are wearing them and they want to fit in."
O'Brien says in her shops, girls will often come in with their mother and grandmother or other female relatives because buying that first bra is a big deal!
"This is a rite of passage for everyone involved, and we can make it an experience that's fondly remembered decades later," she says.
About Kelly O'Brien
Kelly O'Brien is the owner of Linger, an upscale lingerie shop, and blogs about lingerie at shoplinger.com. A former teacher, digital marketing executive, adjunct college professor, and part of the team that launched glossy.com, the first website for teen girls, O'Brien founded LingerTween, (http://Tween.shoplinger.com), to address a glaring marketplace absence.