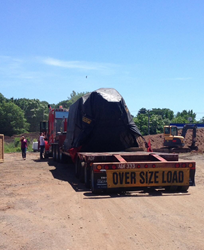 "The 525L HPP system ... will strengthen Stay Fresh Foods' offer of value and flexibility to customers' productions needs."
Meriden, CT (PRWEB) September 04, 2014
"Customers' product lines are growing. Larger pack sizes are becoming more mainstream. Our customer base is expanding." These are some of the reasons Managing Director Amy Lawless cited as the deciding factors in Stay Fresh Foods' recent move to open up its 2nd Avure Certified HPP Tolling Center which will feature Avure's all-new 525-liter, high volume, high speed, larger diameter high pressure processing (HPP) system.
Just over a month ago, the HPP Toll Services provider announced that it had commissioned a second 350-liter HPP system at its headquarters in Meriden, CT. The new system doubled the location's capacity, and was installed in an expansion to the original building, adding a 14,000 square-foot warehouse and processing center.
"Growth has been tremendous," added Lawless. "We're expanding our footprint closer to the mid-Atlantic region to better suit current and new customers' logistics needs. And in addition, we'll gain even more redundancy and reliability, which is very valuable to the critical nature of our customers' production and distribution goals."
Set to open in the fourth quarter of 2014, the new site will include the Avure 525-liter HPP system and various value-added services, such as any applicable pre-prep stations, freshness and sell-by date printing.
"We're really excited about this expansion. As part of this growth plan, we will also be implementing a new Microsoft IT material handling system. That system will communicate between both locations so that we and our customers always know where every single unit is located through the entire process," said Joe Ragozzino, VP of Operations. "This greatly helps customers meet their distribution requirements."
When asked to elaborate on some of the key advantages of the new facility, Lawless says she's most excited about the 525L HPP system, because it will strengthen Stay Fresh Foods' offer of value and flexibility to customers' productions needs.
Patrick Ditchfield, VP of Sales at Avure Technologies, stated that another key advantage is inherent in Stay Fresh's business model. "Stay Fresh Foods is not affiliated with a food producer. Their customers can always be assured that their products won't be bumped off the line or reprioritized for a meat or beverage producer that owns them. This is often the case with other (non Avure Certified) HPP toll services providers in the area."
Stay Fresh expects to fill at least 40 new positions at the new location by the time doors open in Q4. More information will be released shortly.
Contact Amy Lawless, Managing Director, at 855-477-8655 to learn more about the services available at Stay Fresh Foods or go to http://www.stayfreshfoods.com.
For more information about high pressure processing systems and services, visit Avure's website at http://www.avure.com. Follow us on Twitter: http://www.twitter.com/avureHPP. Watch videos at http://www.avure.com/avuretv.

ABOUT HPP
High Pressure Processing (HPP) is the commercially established, non-thermal lethality treatment that uses ultra-high water pressure, up to 87,000 psi, to disable pathogens and bacteria such as Listeria, E.coli, and Salmonella in packaged refrigerated products as diverse as RTE meats and raw ground beef and poultry; fresh fruits, juices, and smoothies; soups, wet salads, and sauces; and seafood and shellfish. HPP delivers benefits to all levels of the market, boosting food safety, extending shelf-life, and improving margins, while providing consumers with fresh, wholesome, natural food.
ABOUT STAY FRESH FOODS, LLC
The exclusive Avure Technologies Inc. Certified Tolling Partner in the Northeast U.S., Stay Fresh Foods, LLC provides custom high pressure processing services on a contract basis to the food industry, utilizing proven technology that substantially improves the safety and extends the shelf-life of packaged foods without chemical additives or preservatives. Based in Meriden, Conn., the company was established by a team of food industry veterans in July 2012 to serve food processors throughout New England, New York, and New Jersey. For more information, visit http://www.stayfreshfoods.com.
ABOUT AVURE TECHNOLOGIES INC.
An innovator with a strong record of accomplishment, Avure Technologies demonstrates its expertise in high pressure by occupying leadership positions in industrial and food applications. Avure is the largest provider of ultra-high pressure systems to pasteurize foods without heat or chemicals. The company offers total solutions to keep food pathogen-free and stay fresh longer—from recipe development to installation of the fastest, most reliable high pressure presses in the world, backed by world-class global support and service. Its equipment—including the new, high-volume QFP 525L and the small footprint 100L—now processes the vast majority of all HPP-treated consumer food products globally.
Avure's HPP Equipment and Services Division, including manufacturing, engineering, procurement, and customer services operations is headquartered in Middletown, Ohio USA; a parts distribution center near Amsterdam, Netherlands; and a global network of certified tolling and service providers. For more information, visit http://www.avure.com.