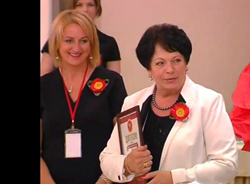 66% of the top management of Helen Doron English are female, and 70% of the 90 Master Franchisors and 90% of the 800 Learning Centre franchises are owned and run by women.
(PRWEB) September 05, 2014
Are women wired to succeed in business? According to the Entrepreneur's Source, a US-based business coaching firm, women naturally excel in 3 key skill areas that propel women in business: communication, initiative and emotional intelligence.
These skills are evidenced in the work of Helen Doron, CEO of Helen Doron Group. Doron, a linguistic scientist, has built an international franchise that launched the careers of many women who also excel in these business skills. The 30-year-old global children's educational franchise company empowers women and enables them to succeed in business. A glance at the roster of the company shows that 66% of the top management of the company are female, 70% of the 90 Master Franchisors and 90% of the 800 Learning Centre franchises are owned and run by women. Helen Doron enables entrepreneurs to start their own franchises and join a leading business network with a solid niche in the English-as-a-foreign language industry. The Helen Doron franchise is a proven business model with franchise life cycles among the longest and strongest in the franchise industry.
This summer, Vera Chub, Helen Doron National Coordinator and Master Franchisor in Odessa / Nykolayev, Ukraine was recognized for her achievements in business by the Eurowoman - International Women's Business Forum sponsored by the Successful Women's Club, an international organization which unites active, responsible and outstanding women to cooperate in the fields of business, management, social responsibility and personal development. "I am excited that I was presented with the Woman of the Year award. It was a big surprise and a great honour. The award was designated for a company owned and directed by a woman, employing women," Vera stated.
"I am very proud of being a part of so many women's success stories," says Helen Doron. "I think it is a win-win situation and, while our male Master Franchisors are equally successful, women possess important traits that make their businesses flourish.
"Firstly, women excel at multitasking, a vital tool for running any efficient business," she states. "Women also seem to be more intuitive than men, or at least more willing to listen to their inner voices. This makes them more sensitive to nuance, picking up those subtle signals, which can be an important information resource in business dealings. Women also tend to be more patient and open to sharing their knowledge with work colleagues, thus expanding and reinforcing their networking system. In some cases, a woman's more compassionate nature better motivates employees and helps attract customers." Helen Doron has made franchises for women a winning combination and a global success.
About the Helen Doron Educational Group:
The Helen Doron Educational Group stands at the forefront of innovative educational systems, providing exclusive learning programmes and quality educational materials for babies, children and adolescents the world over since 1985. The company's flagship franchise, Helen Doron English, today encompasses nearly 800 learning centres in 34 countries in Europe, Asia and South America. More than two million children today speak English as a second language thanks to Helen Doron English.
The Helen Doron English franchise model invites entrepreneurs to join a successful business operation that benefits children around the world. Visit us at http://www.helendoron.com.