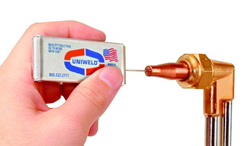 Customized Branding on Qualifying Orders!
Fort Lauderdale, Florida (PRWEB) September 25, 2014
Uniweld's Spiral Tip Cleaners, Tip Savers™, are known for the exclusive Lock-in-Knot on small cleaning wires and for the tapered pilot ends that will not damage tip orifices. The roll formed spiral stainless steel wires are rustproof and strong and the long roll formed spiral cleans a larger number of tip styles. A hard steel file is included in each durable aluminum case, which has drill size cleaning data stamped on the back.
Uniweld has announced that names, addresses, or customized company logos can now be printed in one solid color on the standard aluminum covers of qualifying orders. Name and Address can be printed one color on the covers of 144 sets or more ordered (2 lines, 31 letters per line), free of charge. Customized company logo printed one color on standard, available for a nominal charge.
Additionally, Uniweld Tip Savers are available as part of a Flint Lighter Kit on a display board as well. Uniweld's popular Spiral Tip Cleaners, Tip Savers™, are available in TCJ Jumbo Set, TCL Xtra Long Set, TCM Master Set, TCS Standard Set, and a TCP Propane Set.
Part # TCJ - Jumbo Set
Part # TCL - Xtra Long Set
Part # TCS - Standard Set
Part # TCP - Propane Set
Part # TCM - Master Set
Contact Uniweld for more information on this and other great offers.