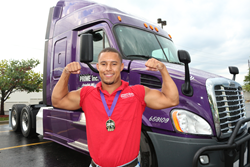 "Each year, whoever wins this can credibly say they are the fittest truck driver in America." -Siphiwe Baleka, Prime Driver Fitness Coach
Springfield, MO (PRWEB) September 04, 2014
Prime, Inc., North America's most successful refrigerated, flatbed and tanker trucking company, recently hosted the 2nd Annual "Fittest of the Fleet Competition" at their annual company picnic during Labor Day weekend. On August 30, 2014, professional truck drivers from Prime and Bison Transport competed for the title of "Fittest of the Fleet" through a series of timed events testing their strength, speed, endurance, agility and athleticism. This year's guest announcer was Pete Thomas, Season Two $100,000 at-home winner of NBC's "The Biggest Loser."
Twenty-seven year-old Randee Lewis from Sulfur Springs, Texas scored 145 points and won two of the three events, naming him the 2014 "Fittest of the Fleet" champion. Finishing second by the slimmest of margins was last year's champion, Rodney McCloud. McCloud was the winner of one event, runner-up to Lewis in two other competition events, and was also the only participant to complete all 30 pull-ups without failure. Finishing in third place was Justin Boschee, who was runner-up to McCloud in 2013′s competition.
"The competition was better, tougher and more competitive this year," said Siphiwe Baleka, Prime Driver Fitness Coach. "The use of 50-foot battle ropes attached to the deer guards and stand-alone pull-up bars were an effective surprise to the drivers, who also carried a 60 lb. sandbag and did a lot of push-ups, burpees, mountain climbers, and running. Each year, whoever wins this can credibly say they are the fittest truck driver in America."
Baleka designed the inaugural event last year with two goals in mind: first, to highlight drivers who have made fitness and health a major part of their trucking lifestyle; and second, to create a national fitness competition in order to help change the image of the professional truck driver. In an effort to spread the health and fitness culture within the industry, he is now challenging other carriers to host their own event using the same format. His hope is to bring together the champions of each fleet into a national competition.
"The truck driving industry is stigmatized for being a profession with the highest percentage of overweight workers," explained Baleka. "We are looking to reverse that trend, not only within our company, but within other fleets. We challenged other carriers to participate, and Bison Transport jumped right in. Next year we hope that 20 more carriers will have drivers fit enough to compete."
For trucking companies interested in hosting their own event for a chance to compete in the "Fittest of the Fleet" competition to crown the fittest truck driver in America, contact Siphiwe Baleka at Prime, Inc. by email at sbaleka(at)primeinc(dot)com for more information.
About Prime, Inc.
Founded in 1970 by Robert Low, Prime, Inc. is North America's most successful refrigerated, flatbed, tanker and logistics trucking company. Headquartered in Springfield, MO, Prime's personnel, equipment and technology remains on the cutting edge of the transportation industry, and the company's growth remains steady and well managed.