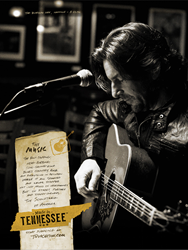 The spot promotes Tennessee's music heritage - past, present, and future
Nashville, Tenn. (PRWEB) September 03, 2014
Tennessee transplants Jack White and Keith Urban, along with the legendary Johnny Cash, appear this week in a new 30-second television commercial, "The Soundtrack of America," for the Tennessee Department of Tourist Development (TDTD).
The spot, which promotes Tennessee's music heritage – past, present, and future – features the song "Mission Bells" by Nashville-based indie roots rockers The Apache Relay, and the voice of renowned songwriter Rivers Rutherford.
"The Soundtrack of America" also includes appearances by the Memphis-based McDaniel Band, the Volunteer State Mass Choir, rockers Those Darlins and country artist Billy Currington. The commercial was shot on location at the Tennessee Theatre in Knoxville, Memphis' famed Beale Street, and the July 4th concerts in Nashville.
Tourism is Tennessee's No. 2 industry with a $16.2 billion economic impact to the state. The state's diverse music is the centerpiece of TDTD's new "Made in Tennessee" campaign, which includes television, print and digital advertising created by VML, a global marketing agency that is part of WPP Group.
Elements of the campaign include a three-minute video, which debuted this summer on RollingStone.com, and features entertainment icon Dolly Parton playing an original recording of "My Tennessee Mountain Home," promoting family vacation destinations in Tennessee.
Coinciding with the grand opening of the Birthplace of Country Music Museum in Bristol, Tenn. /Va., Tennessee joined forces with famous Nashville producer Carl Jackson, to promote the upcoming release of "Orthophonic Joy: The 1927 Bristol Sessions Revisited," which features music all-stars Dolly Parton, Vince Gill, Marty Stuart, Keb' Mo' and Emmylou Harris, as well as Ashley Monroe, the Church Sisters, Victoria Ghost and recent discovery Corbin Hayslett.
Future campaign elements will include branded content showcasing famous music destinations such as Memphis and Nashville as well as lesser-known destinations across the state. To follow the campaign: #madeintn.
For more information, contact Cindy Dupree, director of public relations, Tennessee Department of Tourist Development. Cindy.dupree(at)tn(dot)gov or 615-741-9010 o. 615-418-5752 c.
# # #
Explore more at tnvacation.com and join other Tennessee travelers by following "TNVacation" on Facebook, Twitter, Pinterest, Instagram and YouTube.