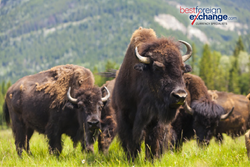 Transylvania is a wonderful place full of ancient forests, meadows, and mountains. It is a lost world in Europe and a must visit for a British Wild Life traveller
(PRWEB UK) 11 September 2014
Considered as Europe's largest mammals, the European bison have returned from near extinction and can be witnessed in Romanian Woods. For those who are planning to witness wildlife this autumn, BestForeignExchange.com offers the most competitive exchange rates in London.
The European bison, which are under threat of extinction, are gradually returning and a herd of bison can be witnessed near Armeniș, Romania, The Telegraph reported on 28th August. Armeniș is within the region of Transylvania, bordering Hungary and Serbia.
"Transylvania is a wonderful place full of ancient forests, meadows, and mountains. It is a lost world in Europe and a must visit for a British Wild Life traveller," stated Trevor Samuel, the Marketing Manager of BestForeignExchange.com.
During this autumn, BestForeignExchange.com will offer the best exchange rates for Romanian Leu. "We understand the needs of travellers witnessing wildlife. They are far away from modern technology and ATMs when travelling across woods in Central Europe. As such, we offer unbeatable exchange rates for Romanian Leu, Euro, Polish Zloty, Czech Koruna, Hungarian Forint, and other European currencies," said Samuel.
About BestForeignExchange.com
Owned and operated by Thomas Exchange Global, BestForeignExchange.com offers the most competitive exchange rates in London. Customers that reserve currencies online will be assured the same exchange rate until close of business on the particular day despite any adverse fluctuations. BestForeignExchange.com stocks the widest range of foreign currencies in London with over 120 types of foreign bank notes. All foreign currency buy/sell transactions are free of any commission or charges.
Thomas Exchange Global also offers International Money Transfer Service where funds can be remitted to overseas bank accounts within one to two days. With commission free service for transfers over £10,000 backed by competitive exchange rates, customers are assured of a better deal and a substantial saving compared to banks and money brokers. Thomas Exchange Global branches are located at Strand, Victoria Street, Liverpool Street, Hammersmith, Cannon Street and Wormwood Street.