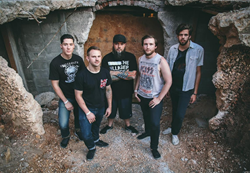 This band is dedicated to freedom. We portray this through our music and live show to reveal the hope we have found in Jesus Christ
Las Vegas, NV (PRWEB) September 04, 2014
The genre of metalcore music may have rooted from legendary bands like Slayer and Pantera but, it has certainly evolved into a lifestyle of its own, and in the case of Memphis, Tennessee's latest offering, What We Do In Secret, their faith played a huge role in the band's founding and development. The band takes pride in their belief of Jesus Christ and infuses those beliefs within their music. The band isn't afraid or apprehensive to tell people that they are all very passionate about being Christians. "We don't preach at you. We just want to love & our heart to love comes from Jesus. We don't care what you do or say. We just want to be who Jesus was to people. A friend, a brother, someone who cares for & loves people" explains drummer, Devin Harris.
The band's unique name is derived from Mathew 6.6, a passage out of the Bible. However, Harris puts and emphasis that he and his band mates are not exclusive to a "Christian only" audience, or playing alongside bands who aren't Christian. "This band is dedicated to freedom. We portray this through our music and live show to reveal the hope we have found in Jesus Christ" explains lead singer Josh Adams. Being exclusive to a certain type of religious preference when it comes to their audience, is not on the bands agenda.
What We Do In Secret is a fairly young band in terms of band longevity. They started making music together a little over two years ago and have amassed a solid local following, and a reputation for having a spectacular, energy driven live performance. A little over a year ago they met Fit For A King guitar player, Bobby Lynge while opening for Lynge's band. Coincidentally, Lynge also recorded bands on his down time and had expressed an interest to record What We Do In Secret. "We met Lynge after opening for his band. Bobby discussed how much he enjoyed our show and the overall message of our band. He offered to record us down in Texas. I was so impressed with Fit For A King's songwriting, I asked Lynge if he would also be interested in producing our record. Fortunately he said yes" explained Harris.
The popularity of metalcore music is once again gaining steam and What We Do In Secret is pushing towards the forefront. Their second EP, "The Migration" comes out on September, 16th and will feature six tracks. Recently, the band released a lyric video for the title track, "The Migration" on YouTube. The video had five hundred views within the first few hours it was added. That single can be found here. Early reviews of The Migration have been comparing What We Do In Secret as a cleaned up version of metalcore legends, Norma Jean.
What We Do In Secret's brand new EP "The Migration" will be available for purchase on iTunes and Amazon on September, 16th. Pre-order for "The Migration" EP is available now on iTunes. For more information about the band and future performances, visit their Facebook page. For album reviews, press or interview opportunities with the band, please contact Sean Delanty from Red Leader Public Relations at redleaderpr@gmail.com