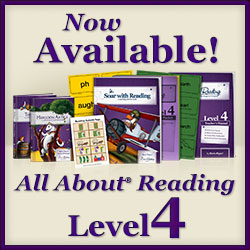 All About Reading is specifically designed to take the struggle out of reading.
Eagle River, WI (PRWEB) September 05, 2014
All About Learning Press, Inc. is pleased to announce the release of the newest and final installment in their award-winning All About Reading program.
Level 4 of All About Reading continues in the comprehensive tradition of the previous levels while introducing more advanced concepts. In Level 4, students will work with multisyllabic words, study words with unaccented syllables, practice with a variety of suffixes and prefixes, explore word morphology, and become acquainted with words with influence from Greek and other languages. All components of reading are taught in Level 4, including decoding (phonics and structural analysis), vocabulary, fluency, and comprehension.
As in the previous levels of All About Reading, students in Level 4 use letter tiles, flashcards, and syllable tags, along with a multisensory activity book that incorporates practice sheets, games, activities, and comprehension-building exercises. Level 4 consists of 63 step-by-step lessons filled with new words, review words, phrases, and sentences that are specifically designed to help students to continue to improve fluency and nurture comprehension.
Created by author and curriculum developer Marie Rippel, the All About Reading program is based on the Orton-Gillingham approach and is specifically designed to take the struggle out of reading. Multisensory lessons teach children the way they learn naturally—through sight, sound, and touch. The "open and go" lesson plans are lightly scripted, so no previous teaching experience is necessary, and lessons require just 15 to 20 minutes per day. In addition, All About Learning Press, Inc. provides lifetime support and a 100% money-back guarantee.
The All About Reading program has received numerous awards including gold level Mom's Choice Awards, the Moonbeam Children's Book Awards, The Old Schoolhouse Excellence in Education Awards, Practical Homeschooling Reader Awards, and Independent Publisher Book Awards.
For more information about Level 4 of the All About Reading program, visit http://www.allaboutlearningpress.com.
# # #
Contact: Greg Rippel
(715) 477-1976