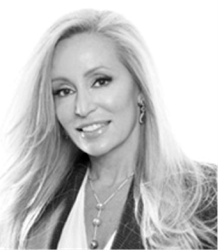 Bal Harbour, Aventura, and Sunny Isles, FL (PRWEB) February 03, 2015
The Haute Living Real Estate Network (HLRN) of HauteResidence.com is proud to announce that Sylvia Fragos—a prominent real estate professional based in Florida—has renewed her partnership with the prestigious group, and will continue to serve as its exclusive representative for the Bal Harbour, Aventura, and Sunny Isles markets. HLRN unites a distinguished collective of leading real estate agents and brokers, highlighting the most extravagant properties in leading markets around the globe for affluent buyers, sellers and real estate enthusiasts.
About Sylvia Fragos:
As a resident of South Florida and the founder and broker of Great Estates International Realty, Inc., Sylvia Fragos offers over 24 years of experience specializing in the sales, marketing, and leasing of luxury residential real estate. Involved in the strategic marketing and sales of luxury developments throughout Miami, she is committed to providing her customers with exceptional personalized services coupled with experience, knowledge and resources that will assist them in finding stable luxury investments and making informed real estate decisions. Collaborating with a network of real estate agents across national and international markets, she strives to deliver superior results for my customers. Sylvia represent buyers and sellers from across the US to Latin America and Europe. Multilingual, she can assist you in English, Spanish or Portuguese.
To learn more, visit Sylvia Fragos' Haute Residence profile.
About Haute Living Real Estate Network (HLRN):
Haute Living Real Estate Network (HLRN) of Hauteresidence.com offers readers the most prominent directory of experienced realtors, brokers and luxury listings, and HLRN has grown to be the number one source for real estate news, residential developments, celebrity real estate news and more.
Seeking an experienced interior designer? HauteResidence.com is also home to Haute Design Network (HDN), a collective of celebrated interior designers that will help you decorate your new home or stage an active listing. Access all of this information and more by visiting: http://www.hauteresidence.com.