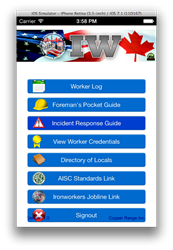 Washington (PRWEB) September 04, 2014
Need to access your Worker Log, look up information in the Ironworker Foreman Pocket Guide or utilize the functions of the brand-new Ironworker Membership Card? There's an app for that.
Ironworkers and their contractors can now access vital information in a tap. With the new Ironworker App, developed by the Ironworker Management Progressive Action Cooperative Trust (IMPACT), all of these functions can be done on the go, giving you the competitive edge you need to stay on top of jobs in the industry. Thanks to the app, ironworkers can access and complete many of the basic functions of their jobs, all in one place.
Users can access Worker Logs and the Incident Response Guide, reference the Ironworker Foreman Pocket Guide and link to the Local Union Directory, Ironworkers Jobline, and AISC Standards. In addition, the Ironworker App also allows users to access ironworker members' certifications and qualifications via their Membership Card using the included QR Code scanner.
The Ironworker app is now available as a free download in the Apple App Store and the Google Play Store.
About the Iron Workers: The International Association of Bridge, Structural, Ornamental and Reinforcing Iron Workers (IABSO&RIW) was founded in 1896 in Pittsburgh, Penn. They now represent more than 125,000 Ironworkers throughout the United States and Canada. The IABSO&RIW's mission is to improve the working conditions of its members while promoting constructive relationships with their employers to increase work opportunities.
About IMPACT (http://www.impact-net.org): The Ironworker Management Progressive Action Cooperative Trust (IMPACT), affiliated with the Iron Workers Union, is a labor-management partnership designed to create work opportunities in the North American ironworking industry. Our primary mission is to provide a forum for Ironworkers and signatory contractors to discuss effective strategies aimed to expand job opportunities through innovative labor-management cooperative programs. IMPACT provides expertise in training, construction certifications, marketing, construction project tracking and bidding, insurance and Davis-Bacon compliance efforts. IMPACT also administers a world-class substance abuse program to ensure that Ironworkers are safe, drug-free and ready to work.