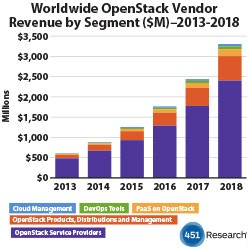 OpenStack has seen tremendous growth over the last four years in terms of investment and community expansion," said Al Sadowski, Research Director. "The open-source platform is increasingly a consideration for private cloud deployments.
New York (PRWEB) September 09, 2014
The OpenStack technology market, which is still in its nascent stage, will grow from $883 million in revenue in 2014 to $3.3 billion in 2018, as enterprises and vendors increasingly adopt the open-source platform for developing and deploying cloud services. That represents a compound annual growth rate (CAGR) of 40% for the six years ending in 2018.
This forecast is based on 451 Research's new OpenStack Market Monitor & Forecast service, which presents data generated via a bottom-up analysis of more than 60 vendors that support OpenStack or base their products or services on the OpenStack framework. 451 Research's OpenStack Market Monitor & Forecast focuses on the key public and private vendors that directly provide OpenStack offerings – including products, services and turnkey offerings around OpenStack deployment and management; various distributions of OpenStack; training and other OpenStack-related services; DevOps tools; and PaaS on OpenStack. The market-sizing analysis excludes hardware-centric revenue, as well as revenue from indirect third-party vendors, such as those in storage or software-defined networking.
While current OpenStack revenue overwhelmingly comes from the 30 vendors in the service-provider space, 451 Research analysts expect an uptick in revenue from all segments, especially from the companies in the OpenStack products, distributions and management space, which are primarily targeting enterprises.
Visit this website to learn more about OpenStack from 451 Research.
About Market Monitor & Forecast
The 451 Research Market Monitor & Forecast product family offers market size, share and forecast data for more than a dozen key segments of the emerging technology landscape, including such sectors as cloud computing, cloud-enabling technology, enterprise mobility and mobile telecom.
Learn more.
About 451 Research
451 Research is a preeminent information technology research and advisory company. With a core focus on technology innovation and market disruption, we provide essential insight for leaders of the digital economy. More than 100 analysts and consultants deliver that insight via syndicated research, advisory services, and live events to over 1,000 client organizations in North America, Europe and around the world. Founded in 2000 and headquartered in New York, 451 Research is a division of The 451 Group.
Learn more.