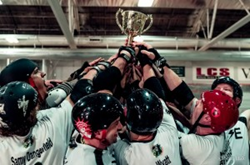 "For the price of admission to our fundraiser, we will deliver an enchanted evening of drinks, music, Mexican food, conversation and a floor show that make your jaw drop."
New York, New York (PRWEB) September 05, 2014
The New York Shock Exchange (NYSE) men's roller derby team announces their "Shock Down Under" fundraising party, Wed., Sept. 17 at Don Pedro, 90 Manhattan Ave., in support of the team's first Australian tour. "The Shock Down Under" party includes one hour of free beer from Founders Brewery, catering by B'klyn Burro, a bachelor auction, music, appearances by team athletes and much more. Tickets are $10 online at http://www.brownpapertickets.com/event/830940 and $15 at the door. For anyone who can't make the event, donations to support the NYSE's Shock Down Under Australian tour are being accepted at http://www.brownpapertickets.com/event/830940 or by calling Brown Paper Tickets' 24-hour event concierges at 1-800-838-3006.
"We are thrilled to compete at the Bont Invitational Australian national championships. Our wish is that this tour will fan the flames of excitement and encourage more derby around the world," said Jonathan Rockey, NYSE's founder. "For the price of admission to our fundraiser, we will deliver an enchanted evening of drinks, music, Mexican food, conversation and a floor show that make your jaw drop."
This will be the first time in modern history that an American men's roller derby team has been invited to compete against Australia's best teams. The inaugural "Shock Down Under" Tour kicks off Jan. 9 at the Bont Invitational Australian national championships in Newcastle, includes stops in Brisbane and Sydney through Jan. 15, and concludes with NYSE's signature intensive two day, co-ed training boot camp on Jan. 18.
"Want to help us get to Australia, but can't make it out to the party?" asked Rockey. "Now you can donate to us through our ticketing partner, Brown Paper Tickets, with no ticketing fee taken from your donation. We appreciate every cent!"
NYSE is proudly sponsored by Founder's Brewery, S.K.I. Beer Distributors, Don Pedro Bar, and Wet Lubricants. For more information, go to http://www.nyshockexchange.com/bouts/shock-exchange-plans-australian-tour/.
###
About Brown Paper Tickets: Brown Paper Tickets (brownpapertickets.com) provides easy, reliable online event registration and ticketing with the lowest fee, the highest level of service, and the largest commitment to roller derby and to social responsibility in the ticketing industry. The Not-Just-For-Profit ticketing company donates 5 percent of the profits from every ticket sold, pays employees to work 40 hours each year for the cause of their choice, and employs a team of experts in roller derby to give free assistance, and to help the sport grow and thrive.